NEW 'Webelos Experience in the Woods'
This brand new opportunity  is for 4th and 5th graders to learn what Scouts BSA is all about, meet other Scouts from 6 districts, do things that Cub Scouts cannot, and have fun. The event is scheduled for Nov 1-3 at Stearns Scout Camp.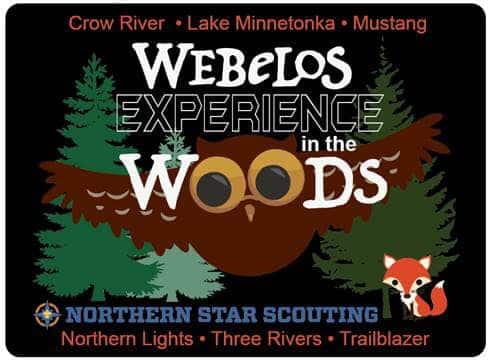 Over the weekend, Webelos Scouts will form patrols and be in a troop under the guidance of a Scoutmaster.  Led by patrol leaders who are current Scouts in Scouts BSA, Webelos Scouts will get a little taste of the independence and self-reliance they learn in Scouts BSA.  They will preview and experience scouting skills, cook, and camp using the patrol method in a Scouts BSA-led outdoor adventure.  Webelos Experience in the Woods is an opportunity to earn advancement towards their Webelos rank & Arrow of Light Award, as well as their Trailhead Award.
The weekend activities will include:
Forming patrols & making patrol flags
Troop style campfires
Scout skills rotations
BB Guns, archery & climbing
Information for Webelos parents & leaders on the Scouts BSA program
Registration Fee:
$30   Webelos Scouts/4th and 5th grade guests
$20   Parent/Leader
ALL FOOD & EQUIPMENT WILL BE PROVIDED!!!! Tents are available upon request.
For more information, contact Vicki Jurek, Lake Minnetonka District  Membership Chair at [email protected]
Registration will be available in the fall.