Wings of the North AirExpo Aviation Merit Badge Event – Saturday, July 24 or Sunday, July 25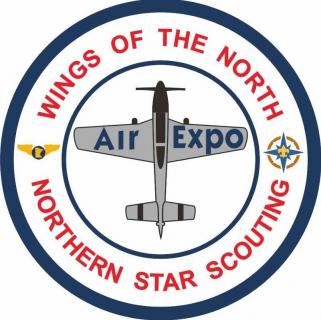 Dates:
Saturday, July 24 and Sunday, July 25 (Scouts only sign up for one of the two days offered).
Time:
All participants should arrive by 7:45 AM for check-in. The class will start shortly after check-in at 8 AM.
Cost:
Merit Badge participants: $20.00 (This includes a balsa wood model airplane, a commemorative patch, and discounted AirExpo admission).
All merit badge participants must be pre-registered due to limited space.
General admission to the AirExpo will be offered to adult chaperons and the Scout's immediate family while their sister/brother/son/daughter takes part in the merit badge class.  Family members and chaperons are eligible for a 25% discount on admission (prices below are at the discounted price):
Adult: $15.00*
Sibling (ages 7-12): $3.75*
Sibling (7 and under): free 
*NOTE: these discounted prices must be preregistered and paid.  Prices will not be honored for walk-ins.
Register Online Required
Location:
Flying Cloud Airport
10100 Flying Cloud Drive, Eden Prairie, MN 55347
Park and enter via the Air Expo parking lot and entrance. Scouts and guardians should walk along the road (blue arrows on the map) to the Wings of the North Museum and proceed to the third floor conference room for the merit badge program.
See attachment for program detail and location map.
Additional Information:
– At this time, all participants should plan on bringing a Health Screening Checklist.  COVID-19 precautions will match the guidelines published by Northern Star Scouting here (https://www.northernstar.org/News/eNavigator/covid19-and-northern-star-camps-meetings-more), at the time of the event.  Conditions may change, and messages will be sent the week of the event to registered participants.
– Participating Scouts should wear their field uniforms ("Class A" uniforms) to the AirExpo event.
–  As a Scouting activity, all participants are required to fill out Part A and B of the Annual Health and Medical Record.
– Each youth needs to bring a pre-filled merit badge card and the Aviation Merit Badge worksheet (link for the MB Workbook).
– All Scouts taking the merit badge must read the Aviation Merit Badge book prior to the AirExpo.
– In the past, Scouts have had difficulty during the aerial navigation portion of the merit badge class.  Please consider having Scouts review their First Class orienteering requirements or Orienteering Merit Badge requirements prior to attending.
– Please note there is a limit of 35 Scouts each day for this event.  A waitlist will be used once the limit of Scouts is reached.  If you are registered and cancel your registration by Sunday, July 17 at 11:59 PM we will reimburse you if someone is able to fill your canceled registration.
– Lunch will not be provided as a part of the event, but there will be concessions available on site at the AirExpo.
– We are asking each group of youth signed up to bring an adult and follow at least a 10:1 ratio youth-to-adult ratio.
– Orientation flights are not a planned activity during this event, but opportunities have occurred at previous events.  If your Scout is interested, please consider filling out the Boy Scouts of America's Activity Consent Form.
More information on the Air Expo: http://www.wotn.org/airexpo/
Questions please contact:
Ben Coder
612-261-2329 or [email protected]