Welding Merit Badge Day – Saturday, April 23, 2021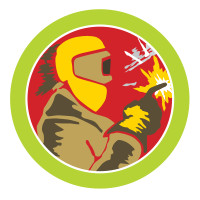 Welding Merit Badge Day
Saturday, April 23, 2021
8:00 am to 3:00 pm
$20 per Youth Participant or Adult Participant
Lynnes Welding Training will be offering a Welding Merit Badge course on Saturday April 23rd from 8AM-3PM.  Scouts participating in the event will have the opportunity to complete the Merit Badge.  Up to 4 parents will also be welcome to join and participate alongside the Scouts during the Welding Merit Badge instruction.  The event cost includes lunch and materials.  Special thanks to Lynnes Welding Training for hosting this opportunity for area Scouts!
Register Online
Limited space is available due to the number of welding stations available.
Scouts pursuing the Merit Badge need to be 14 years of age or older.
Registered Scouts need to have an adult chaperone during the course of the event.  Space will be available for up to 4 adults to take part in the course alongside Scouts.
A waitlist will be used once the limit of Scouts is reached.  If you are registered and cancel your registration by Sunday, April 17 at 11:59 PM we will reimburse you if someone is able to fill your canceled registration.
At this time, all participants should plan on bringing a Health Screening Checklist.  COVID-19 precautions will match the guidelines published by Northern Star Scouting here (https://www.northernstar.org/News/eNavigator/covid19-and-northern-star-camps-meetings-more), at the time of the event.  Conditions may change, and messages will be sent the week of the event to registered participants.
Participating Scouts should wear a long sleeved shirt, pants, and boots for welding.  Clothing should be fiber-based, and leather boots are strongly recommended.
As a Scouting activity, all participants are required to fill out Part A and B of the Annual Health and Medical Record.
Location: Lynnes Welding Training: 9459 US-10 Ramsey, MN 55303
Want to learn more about Lynnes Welding Training and the programs that they offer?  Chck out their website here: https://learntoweld.com/ramsey/.
Questions: