Troop 589 Spread Holiday Cheer to the Residents of Auburn Homes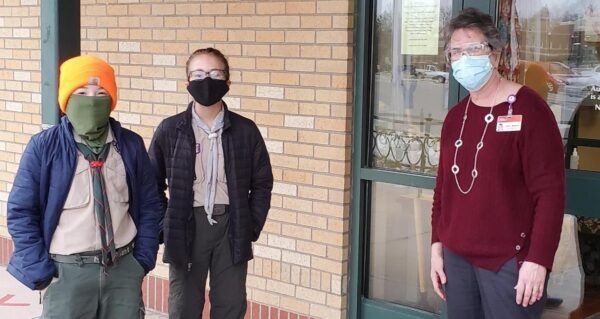 Each Christmas, the Scouts of the linked Troops 3589 (boys) and 5589 (girls), hold a Christmas party for the residents of Auburn Homes in Chaska. Traditionally the Scouts would play bingo, sings songs, share treats and gifts with the residents. This year was a bit different.
This year the Scouts recognize that staying at home and social distancing is a challenge for all of us. However, for the most vulnerable members of our community, it means more than that. For the residents of Auburn Homes in Chaska, stay-at-home orders mean entirely disconnecting from their families and loved ones during the Holiday season. The young men and women of Troop 589 stepped in to help spread some holiday cheer to the residents.
The Scouts hand-made 116 cards and collected 37 scarves, 20 pairs of new socks, and 20 pounds of candy to spread some holiday cheer.
Amy Myers from Auburn homes said, "We are grateful to receive all of these donations for the residents. This year they missed playing bingo, singing songs, and sharing treats with the scouts."
It was a challenge for the Scouts to pull off collecting items while keeping socially-separated. Each of the four scout patrols separately coordinated with their members to make cards or collect gifts.
"Our Scouts stepped up to help spread holiday cheer, where it is most needed," said Scoutmaster Scott Patz. "The outpouring of support from our youth is a real example of the character Scouting instills in these young men and women."
"I'm glad that we were able to let the residents know that we are keeping them in their hearts during the holiday season, even though it looks different, like so many other things in 2020," said Senior Patrol Leader Sofia R. "The difference youth can make in our community is inspiring," added Mr. Patz.
The Scouting Slogan is "Do a Good Turn Daily." Service to others is a cornerstone of our program. Having the opportunity to serve others, especially when there is a need, only exemplifies Scouting's real purpose.
Scout BSA Troop 589 from Victoria, MN, consists of nearly 60 Scouts. Troop 589 services youth ages 11-17 in the Southwest metro areas of Victoria, Chaska, Chanhassen, Carver, Waconia, and Minnetonka.
Photos: Sofia R, the Troop 5589's first female Senior Patrol Leader, along with her brother Mason, wore masks as they delivered the donations to Amy Myers in front of Auburn Homes in Chaska, MN