Stay Warm and Dry This Winter With These Gear Tips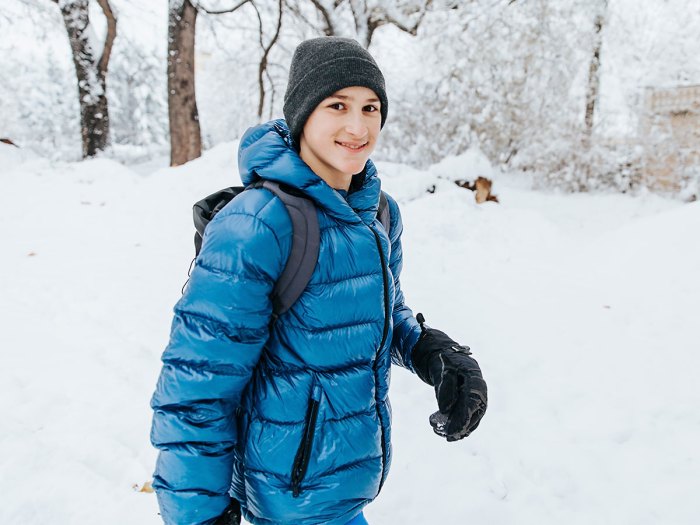 Whatever your winter activity, staying warm requires finding the right combination of layers. The specific layers depend on your body, the temperature, wind speeds and how much you sweat.
BASIC TIPS FOR STAYING COMFORTABLE IN THE COLD
MOVE. Clothing does not produce heat; it only traps the heat your body produces. If you feel cold, start moving or pick up your pace.
PACE YOURSELF. Avoid sweating heavily, because wet clothing conducts heat away from your body. Set a pace that keeps you warm without causing you to overheat.
FUEL UP. In cold, dry conditions, you become dehydrated more quickly than you realize. Drink frequently. Carry a thermos with a hot drink. Your body also needs more fuel in colder temps to maintain its internal furnace. Eat high-fat snacks like chocolate and nuts, because fat is a slow-burning fuel that keeps your body going. Don't underestimate your caloric needs.
WINTER GEAR FOR YOUR BODY
Wear a layering system that includes a wicking layer, one or more insulation layers and a waterproof layer. Swap these on and off as much as needed. Put on an extra layer when stopping for a short break, and take it off when you start moving again (unless you've gotten cold).
The Shell or Windproofing Layer
The outermost layer, the shell jacket and pants protect you from wind and wet conditions.
There are two types of shells: the hard shell is a lightweight layer that's windproof and waterproof, capable of handling heavy rain and very wet conditions; a soft shell is made of a more flexible, soft-faced material that's windproof yet highly breathable, and water-resistant enough to protect you against everything except a heavy downpour.
Insulation or Warmth Layer
The insulation layer is worn atop the base layer and is designed to provide the majority of your insulation. It should be made of fleece, wool, down or synthetic insulation and can be a pullover, zip-up jacket or vest, depending on how much insulation you need.
Base or Wicking Layer
Also commonly known as long underwear, the base layer is worn closest to your skin. Its main job is to wick away sweat and moisture so your skin stays dry.
Wear it relatively tight to the skin and use only wool or synthetic base layers. Never use cotton because it will not keep you warm once it's wet, whether from sweat or precipitation.
These base layers come in various weights, from heavy for frigid conditions to lightweight for warmer temps and activities that cause a lot of sweating, such as strenuous hiking and cross-country skiing.
It's a good idea to have one extra pair of base layers to change into every night at camp.
WINTER GEAR FOR YOUR HEAD
You've surely heard this before: If you're cold, put on a hat.
Just as with any exposed skin on your body, you can lose lots of heat through your bare head. So cover up with a wool or synthetic stocking cap. Those with earflaps can be especially handy.
To trap the maximum body heat, pull your jacket's hood over your head. And when the air is so cold it seems to take your breath away, try wearing something to cover your face such as a face mask, scarf, bandana, neck gaiter or balaclava (a pullover hat with a cutout for your face).
During the winter, days are shorter so it's always a good idea to carry a headlamp with you in case you need to find your way in the dark.
WINTER GEAR FOR YOUR FEET
Nothing can cause more misery than hiking around in soggy boots. If you want to keep your feet warm, keep them dry. Invest in a pair of waterproof boots, preferably those with warm insulation and removable liners so you can dry them out each night.
Many people underestimate the value of a quality pair of socks. For cold weather, go with wool (though synthetic blend works OK, too), and consider wearing a silk or neoprene sock liner under it to wick away sweat and minimize blistering.
Also, if you're expecting to be in very wet conditions, try wearing an old plastic grocery bag between your liner sock and your wool sock as a moisture barrier. For really cold conditions, try cutting up pieces of an old foam sleeping pad to make insoles for your boots that provide added insulation from the cold ground.
WINTER GEAR FOR YOUR HANDS
Start with a thin pair of wool or synthetic liner gloves, then layer them with an outer waterproof glove or mitten. Mittens are often slightly warmer because they let you share warmth between fingers, but gloves give you better dexterity.
WINTER GEAR FOR YOUR TUMMY
When you keep your body well fueled, it acts like an internal furnace that keeps you warm. Try to eat foods packed with slow-burning calories, like nuts, cheese, peanut butter and hard sausage.
Even though you're not hot and sweating, cold weather can still dehydrate you quickly. So drink plenty of water on the trail. If your pee is dark yellow, then you're not drinking enough!
For really cold climates, consider carrying an insulated water bottle or hydration bladder, or keep a small canteen of water close to your body to prevent it from freezing.
WINTER GEAR FOR YOUR BOTTOM
This may seem silly, but always pack a small square-shape scrap of foam pad to use for a sit cushion or kneeling pad. Besides providing a layer of insulation between your body and the cold ground, the pad can also help you avoid getting wet.
WINTER GEAR FOR SLEEPING
For winter camping, your best bet is to use a layered sleeping system.
Start with your standard sleeping bag. Assuming it's not rated for freezing temps, you can up the warmth of your bag with a silk or fleece liner and by wearing warm clothes and a stocking cap to bed. You can also fill up space in your sleeping bag (thus keeping you warmer) with other pieces of clothing. Added bonus: Your clothes will be toasty warm in the morning.
For truly cold temps, layer your sleeping bag with an overbag, basically an oversized sleeping bag that provides an extra layer of insulation that can boost the temp rating of your sleeping bag by 20 degrees or more.
Next, be sure to have a single or double layer of sleeping pads to insulate you from the cold ground. It's great to have one pad in between your sleeping bag and your overbag.
Finally, camping inside a structure like a quinzee (also called a snow dome), snow cave or igloo, or a four-season tent will keep you out of the wind and weather while you sleep.