Scout Scarf (Neckerchief) Day – August 1, 2019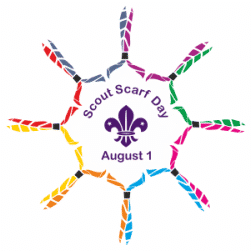 The idea of "Scout Scarf Day" on August 1 is that all active and former scouts are requested to wear their scout scarfs in public to make the "Spirit of Scouting" visible: Once a Scout – Always a Scout! 
The date of the event commemorates the very first Scout Camp on Brownsea Island in 1907.
Of course, the scarf is only a symbol but a strong symbol for the scout promise and for our mission to leave the world as a bit better a place than we had found it.
Come Join Us at Roundtable  for Ice Cream and be sure to wear your you Scout Neckerchief!
Find out more information online at: https://www.scoutscarfday.com/
How can I register for Scout Scarf Day?
– There is no registration, the only thing we will waiting for, is your picture wearing Scout Scarf with few words to the world.
Where can I buy the event Scarf?
– You need your own Scout Scarf, we don't sell them.
I don't have any Scout Scarf, can I still somehow take part in the event?
– Of course, you can. Use our Twibbon or Facebook frame that you can add to your profile picture
Why countdown on social media will be over at 31 July instead August 1?
– We are aware of the timezones, there are countries where August 1st will be few hours before other countries. And we remember it works both sides.
Are there any badges associated with the Scout Scarf Day?
– You can find them in "Badges" tab on this page.
If there will be any event album?
– We want to encourage scouts to post their pictures on event wall: www.facebook.com/pg/Scout.Scarf.Day/events/