NORTHERN STAR'S FIRST DISTINGUISHED CONSERVATION SERVICE AWARD – Keegan Smith from District M
KEEGAN SMITH BECOMES OUR FIRST RECIPIENT
Keegan Smith of Troop 3283 of Wayzata became the Council's first recipient of the BSA's Distinguished Conservation Service Award after passing his Board of Review on Nov. 19, 2021.  The BSA created the DCSA in November 2019 as a replacement for the William T. Hornaday conservation service awards.
In order to earn the DCSA, a Scout must research, plan, and lead two significant conservation projects, then conduct follow-up work to ensure that the projects achieved their intended goals.  Including the follow-up work, a DCSA project can take several months to over a year to complete.  The Scout also must earn several conservation-related merit badges.  Venturers and Sea Scouts have slightly different requirements that replace the required merit badges.  Click here for the full requirements.
Keegan's first project, begun in the summer of 2019, was the design and planting of a pollinator garden along Minnehaha Creek in St. Louis Park, near the Methodist Hospital.  He researched native plants that would thrive in the soil in that area and would bloom at different times during the growing season so pollinators would have something to eat all summer.  He then made a detailed planting layout, to avoid lumping all of one type of plant together.  His initial follow-up included keeping the plants watered so they would survive until winter.  He continued his follow-up through the spring, summer and early fall of 2021, making sure the plants survived and documenting that pollinators were in fact feeding from the flowers.  He met the public education aspect of the DCSA by designing a large sign, erected next to a walking path near his garden, describing the need for additional pollinator habitat and showing viewers how they can make their own pollinator garden.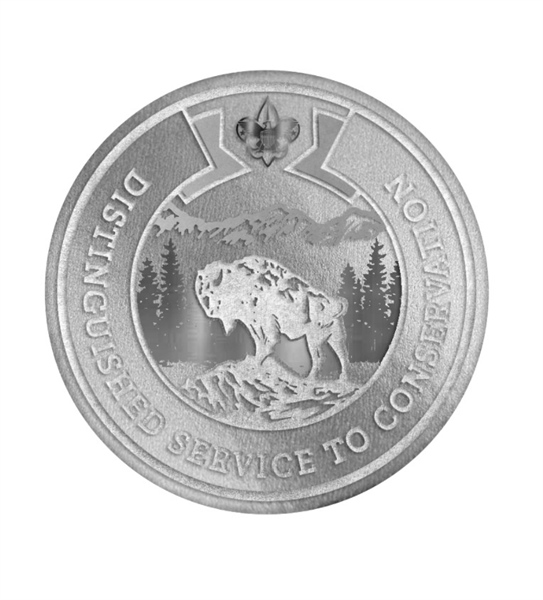 Keegan's second project was the design and installation of 8 fishing line recycling containers at 6 piers on 3 lakes managed by the Three Rivers Park District.  He researched the problems of improper disposal of monofilament fishing line: that birds and fish can get tangled in the line and die when it is discarded into a lake; and that it can take hundreds of years to decompose.  He designed and led the building and installation of the fishing line recycling containers so people would have a convenient, better way to dispose of their unwanted fishing line.  His follow-up work included many trips over several months to empty the collection containers, and separating over 300 feet of used fishing line from all the trash that people had put in his containers.  He sent the fishing line to Berkley, an Iowa-based manufacturer of monofilament fishing line to be melted and made into other items.   Even the trash was a benefit to the lakes since it was not thrown into the lakes or washed into them from the shore.  He replaced 2 collection containers that were stolen, and reinforced the attachments on those and the others so no more of them would be stolen.  His community education included putting colorful stickers on each of the containers, explaining the need for proper disposal of used fishing line.
Keegan received the DCSA certificate and award knot in a private ceremony near Minnehaha Falls and will have a public ceremony in May at a troop court of honor — at which 2 of his troop mates (hopefully) will receive their own Distinguished Conservation Service Awards.
To learn more about the DCSA, follow the URL provided above.  To be put in touch with a DCSA award advisor, contact Jake Erickson, staff advisor for the Council Conservation Committee,