MILLION DOLLAR DAY FOR SCOUTING REACHES A RECORD $1.1 MILLION
TWO BREAKFASTS OFFER INSPIRATION, RECOGNITION AND FELLOWSHIP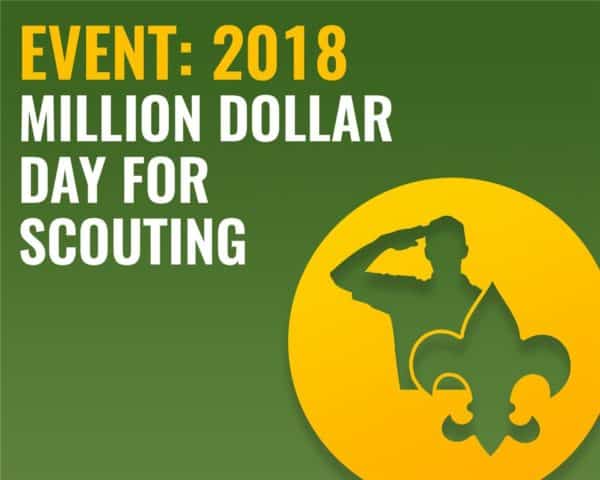 Nearly 900 supporters attended our 2018 Million Dollar Day for Scouting – two breakfasts within a 25 hour period designed to raise $1 million to launch the 2019 Friends of Scouting Campaign. Participants saw a snapshot of Scouting's influence as they shared fellowship and made their 2019 contributions.
We had two amazing keynote speakers! Their stories showed how character, citizenship and fitness, core Scouting principles, have guided them to be leaders on two distinctly different paths and even to the top of the world.
In St. Paul on 12/5, Kathleen Blatz, retired Chief Justice of the Minnesota Supreme Court spoke of leadership, integrity, finding common ground and doing what's right– fundamental Scouting values. She shared her personal experiences, as well as cited research which confirms Scouting's positive impact on young people.
At Fort Snelling on 12/6, we heard from Anish Luitel, a Nepalese Scoutmaster and long-time friend of Northern Star, who became only the 543rd person in the world to summit Everest from both sides of the mountain. His was a story of perseverance through harrowing adventures, with the highlight being his presentation of the Scouting Centennial flag that he carried to the Everest Summit back to Scouts from Ham Lake Troop 509 who had provided it to him for his ascent.
Other highlights were the presentation of the Scoutmasters of Philanthropy Awards to the William J. Hickey, Jr. Family in St. Paul and to Edward B. "Chip" Chapin, Jr. at Base Camp.  Hickey started a golf tournament in 1982 to help ensure that all children could experience Scouting. When he passed away five years later the tournament was renamed in his honor. Since then, the tournament has raised more than $3 million to support young people in Scouting. Chapin has been a long-time volunteer at the unit, troop, district levels, with special emphasis on Northern Lights District Friends of Scouting Campaign who now serves as the Aquila Team Community Friends of Scouting Chair for the districts in the council's western-most service area.
Both breakfasts featured Scout Emcee Juan of Troop 335, the inspiration of Scout Mitchell of Troop 196 singing the National Anthem, a personal testimonial by Eagle Scout Ahmad of Troop  61 who shared some of his personal Scouting highlights and who credited his Scout leaders and faith leader as strong role models and positive influences, with a special salute to his grandmother who encouraged his Scouting involvement and helped him attain the rank of Eagle.
Another recognition and inspiration was the presentation of the National BSA Medal of Merit to 10-year old Maxwill Huffman of Pack 391 of Chaska for using his Scouting skills to prevent his cousin from drowning while swimming in Elk Lake, Hoffman, MN. KSTP Television covered the presentation and included interviews of Maxwill and his cousin (view the story here).
The two breakfasts were energizing and, thanks to the generosity attendees and the leadership of the volunteer table hosts and committee, have positioned Northern Star Scouting for another strong program year ahead.