Join us at the Million Dollar Day for Scouting – Dec 11th (St Paul) or Dec 12th (Ft Snelling)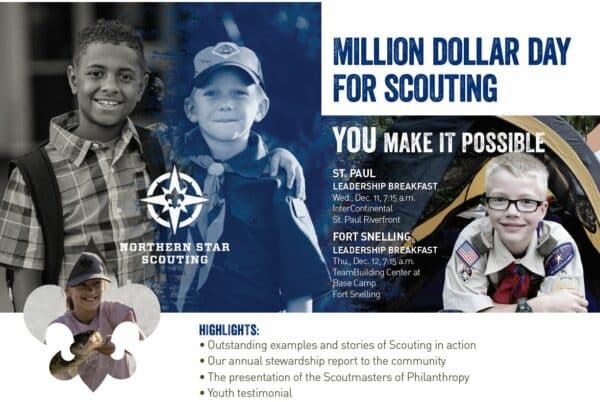 Please join us for a great morning event, celebrating Scouting in our community! We'll hear from some great speakers, recognize some Scouts receiving a Lifesaving or Meritorious Action award, and show our support for Scouting in our Community!
Our Annual Million Dollar Day for Scouting is the official kickoff for the Friends of Scouting Campaign which goes from December to May each year. The money raised by this campaign is the largest source of funds for Scouting's programs. Friends of Scouting provides for all Scouting programs that instill leadership growth and teach young people the skills they will need for life.
Million Dollar Day's goal is securing commitments to Scouting that total over $1,000,000 by the end of the second breakfast. Scouting's community and business leaders are active, busy people, so the two events are designed to create an inspiring launch to the campaign. This enables the council to start the year in a strong position while conserving staff and volunteer time, which can be directed to serving the council's growing membership.
HEAR FROM GREAT SPEAKERS!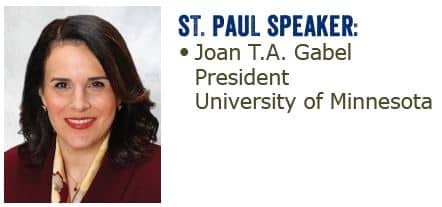 Make sure to select Lake Minnetonka District to be seated next to your friends from our District!
WHO SHOULD ATTEND?
Scouting volunteers, donors, and others who appreciate what Scouting is doing for young people and wish to learn more. Join us for an inspiring breakfast filled with Scouting stories!
WHEN IS IT?
The St. Paul breakfast will be held on Wednesday, December 11, 7:15-8:30 a.m. at the Intercontinental Hotel Riverfront (11 E. Kellogg Street, St. Paul).
The Base Camp breakfast will take place the following morning on Thursday, December 12, 7:15-8:30 a.m. at the TeamBuilding Center at Base Camp (6202 Bloomington Road, Fort Snelling)
Attendees can leave as early as needed — please attend if you'd like and leave when you need to in order to get to work or family committments
HOW CAN I GET INVOLVED?
Attend one of both of the breakfasts
Become a table host
HOW DOES MY FOS GIFT GET COUNTED?
Attendees who submit their pledge and/or contribution on that day get counted towards our goal of raising a Million Dollars in 24 hours! Your contribution will continue to count towards your Pack, Troop, or Crew's goal, unless you specify otherwise.
HAVE QUESTIONS?
Reach out to Nick Pedersen, District Chair at (952) 270-8146 or Nicole DeYoung, Community Relations Executive (612) 261-2345