How to Buy a Good Camping Air Mat or Sleeping Pad
You might not think your sleeping pad or air mattress is important until you spend a miserable night on a bad one. Follow these buying tips and grab a top pick.
SLEEPING PAD BUYING GUIDE
There are two types of sleeping pads:
Closed-cell foam pads: These simple pads insulate well and are lighter, cheaper and more durable than air mats. But they're also much bulkier and usually need to be carried under external straps on a pack rather than inside it.
Air mats: With lots of choices in a range of prices, air mats are far superior in comfort to foam pads.
Self-inflating air mats mostly inflate when unrolled but usually require a few breaths to firm up. Other mats come with a small pump or sack with a mating valve for inflating.
Air mats are lightweight and pack down enough to fit inside your backpack. For three-season backpacking, air mats typically weigh under 1½ pounds and roll up to slightly larger than a liter bottle.
CONSIDER THESE FACTORS BEFORE CHOOSING A SLEEPING PAD
• Air mats occasionally puncture and go flat. Many come with a patch kit, but it can be difficult to locate a hole and repair it in the field. A mat's denier rating indicates how strong its fabric is. The lower the rating, the softer — but lighter — the mat will be. A high denier rating means the fabric is tough but heavier.
• The standard size for sleeping pads is 20 x 72 inches. Taller than 6 feet? Most manufacturers make a larger size, but it'll cost you.
• Some air pads make loud crunching noises when you shift around on them, which can be an annoyance to tentmates.
• For car camping, there's almost no limit on size, so don't fret over buying a lightweight backpacking air pad. A bulky air mattress — or old school cot — will do the job.
• Before buying, make sure the mat or pad is comfortable to you. The energy you lose through a bad night's sleep will far exceed the energy you save by carrying a lighter pad on the trail. Make sure you get a pad on which you can sleep comfortably.
WHAT'S THE R-VALUE?
Sleeping pads and air mats are not just for padding. They also protect you in chilly temperatures and provide critical insulation against the ground. The R-value measures how well it insulates:
• An R-value below 3 indicates minimal insulation, adequate only for warm nights.
• A value of 3 or higher denotes a mat with insulation for camping on cool nights (above freezing temperatures). Chronically cold sleepers should find a mat rated closer to 4.
• Look for 5 or higher for camping on frozen ground or in sub-freezing temperatures.
GEAR GUY'S TOP PICKS FOR SLEEPING PADS AND AIR MATS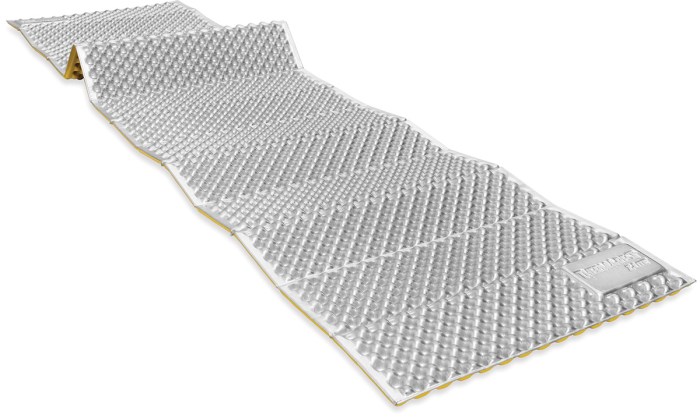 Outdoor beds don't get simpler or cheaper than a foam pad, and the THERM-A-REST Z LITE SOL ($36, thermarest.com) sets the standard in this category for packability, durability and low weight — if minimalist on comfort. (Tip: Look for soft ground like pine needles or sand.) This egg-carton pattern closed-cell foam pad folds up like an accordion and lies flat when you open it up, and it has a heat-reflecting surface. But at 3⁄4 inch thick and a 2.0 R-value, it isn't super comfy. 14 oz.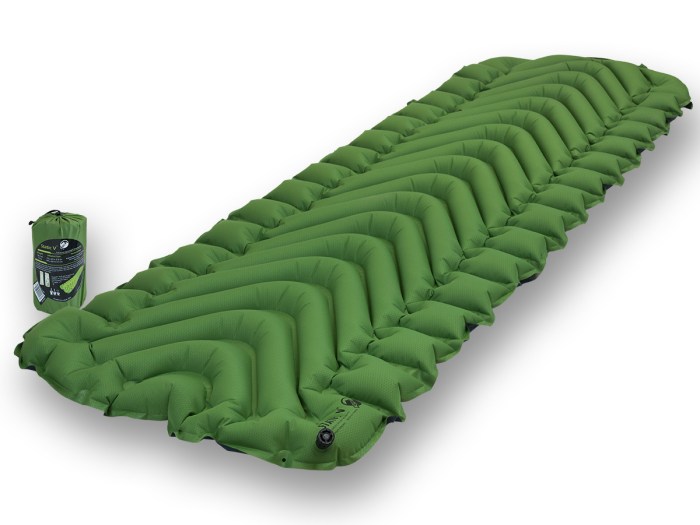 With 2 1⁄2 inches of thickness, body-conforming chambers and numerous air pockets, hard ground goes soft on the KLYMIT STATIC V ($60, klymit.com). The typical 72-inch length gets a comfort boost from the 23-inch width, more than many regular air mats, while the 75-denier polyester shell fabric is tougher than what many competitors use. It's still just a few ounces north of a pound. 1 lb. 3 oz.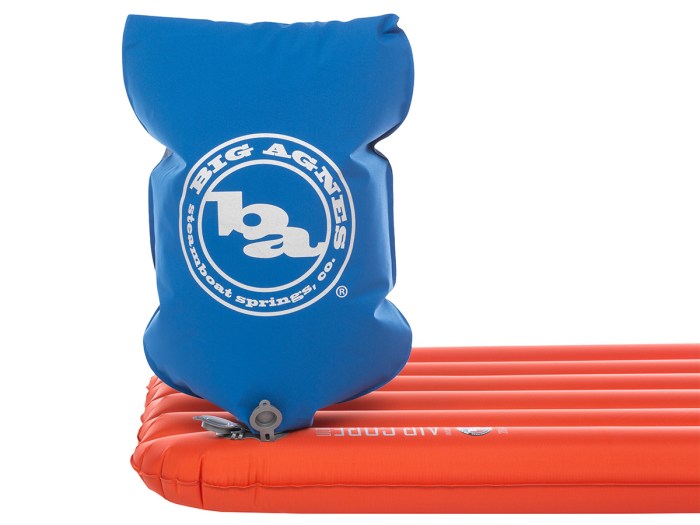 At 3 1⁄4 inches thick with outer chambers to keep you on the mat, the BIG AGNES INSULATED AIR CORE ULTRA ($80, bigagnes.com) delivers deluxe comfort at a good value, reasonable weight and low bulk. Separate high-volume valves and an upcycled inflation sack make inflating and deflating quicker. Synthetic insulation and heat-reflective technology give it an R-value of 4.5, good for nights around freezing. Nylon ripstop fabric and aviation-grade thermoplastic polyurethane lamination improves durability while minimizing weight. 1 lb. 6 oz.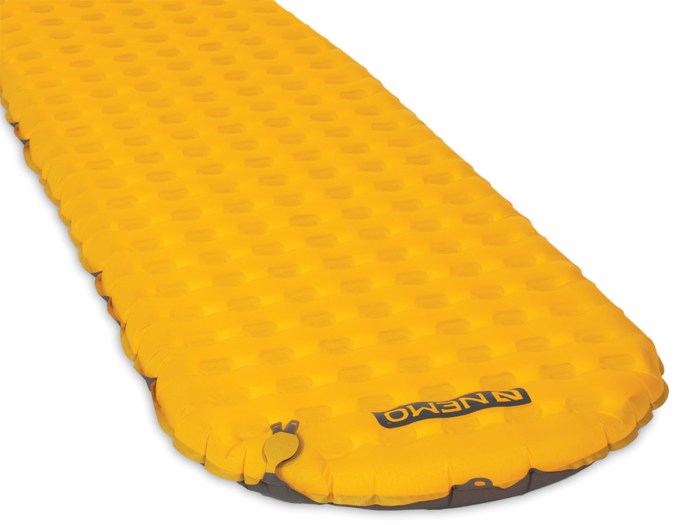 Three inches thick, with waffle construction that improves stability and distributes weight evenly, the NEMO TENSOR ULTRALIGHT INSULATED SLEEPING PAD ($190, nemoequipment.com) inflates quickly using a Vortex pump with a micro-adjustable valve for precise inflation control. This saves your breath and minimizes moisture (a heat conductor) entering the mat. Two layers of suspended metalized film keep the mat quiet. This year's updated model uses a continuous thermoplastic polyurethane film to prevent convective heat loss, raising the R-value from 3.5 to 4.2 — without any weight gain. 15 oz.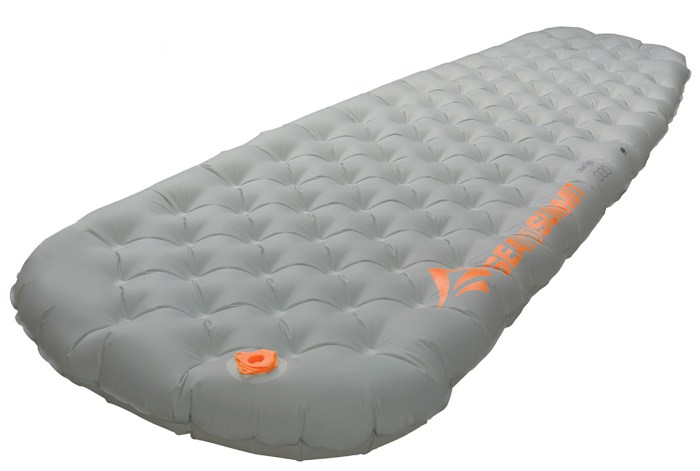 For starters, the SEA TO SUMMIT ETHER LIGHT XT INSULATED AIR SLEEPING MAT ($180, seatosummit.com) blends two types of insulation: a quiet, non-woven fabric with a metalized layer that reflects radiant heat and a hollow-core insulation that lofts to prevent convective heat loss, giving this mattress an R-value of 3.2. At 4 inches thick, the Ether Light XT incorporates a matrix of interconnected air chambers that conform to your body. Its 21 1⁄2-inch width at the shoulders exceeds most regular-sized mats, and it weighs barely more than a pound. 17.3 oz.