Here are some Great Tips for Building your Pinewood Derby Car (using Science!)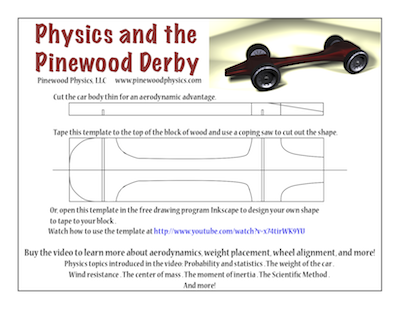 1. Max out your Pinewood Derby car's weight at 5 ounces and make sure the heaviest part is about 1 inch in front of the rear axle. This is the most important step. Science shows if you do this correctly, you will beat a Pinewood Derby car built exactly the same — except with the weight toward its front — by 4.6 car lengths. It works because the farther back the weight is, the more potential energy you have because your center of mass is higher up on the track. (Don't put it too far back, or your Pinewood Derby car will become unstable and pop a wheelie.)
Step 2: Lubricate Axles and Wheel The easiest way to reduce friction is to lubricate the surfaces that cause friction. Lubrication is an essential part of pinewood derby racing. Purchase a tube of dry PRO Graphite with moly and shoot it onto the axle shaft and inside the wheel bore. Spin the wheel so the graphite works in. You will immediately notice a significant improvement in the wheel speed as it turns on the axle after applying graphite.
Step 3: Prepare and Polish Axles – Essential for Speed Your wheels turn on Pinewood Derby Axles. If you are using the Cub Scout BSA Grand Prix car kit, then these axles are nothing more than nails. One of the biggest sources of friction is where the axles and wheel surfaces meet. It is important to make your axles as smooth as possible. The burr under the nail head will grind into the plastic wheels severely slowing your car. Be absolutely sure that the burr under the nail head and on the nail shaft is filed off. Once these areas are sanded off, polish the nail shaft and underside of the head to a mirror like finish.
Step 4: Balance and tune your Wheels to Maxiumize Speed Imperfections in your Pinewood Derby Wheels cause friction in many areas. Sanding your wheels, however, can be tricky. If the wheels are not precision sanded, you can actually make matters worse. Turning your wheels on a lathe are the best way to remove imperfections and get a uniform, balanced and finely tuned pinewood derby wheel. The wheel is secured in the lathe and spun at a high speed, then it is sanded or shaved with a tool attachment.
Wheel imperfections can also make your car veer left or right. Once again, lathed wheels will remove mold imperfections so each wheel rolls perfectly straight.
<iframe width="700″ height="394″ src="https://www.youtube.com/embed/a5A6SCE0eVw" frameborder="0″ allow="accelerometer; autoplay; clipboard-write; encrypted-media; gyroscope; picture-in-picture" allowfullscreen></iframe>