Cub Scout Summer Camp Registration is now OPEN!
Adventure awaits at Cub Scout Summer Camp! You can look forward to a weekend full of activities such as swimming, archery, boating, bb guns, climbing and so much more! Our enthusiastic and well trained staff will guide you every step of the way, all you need to do is come ready to have some fun! Come with your whole Pack or sign up individually as a family.
Registration opened March 1st. Packs – be sure to register now to reserve your space. Spots are filling up quickly!
Learn More and Register Today!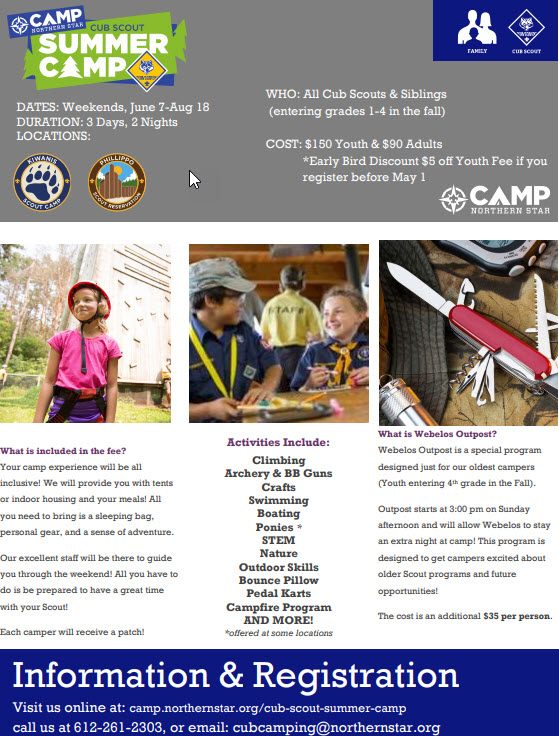 PROGRAM HIGHLIGHTS
STEM Programs including NOVA Programming
Crafts
Scout Skills
Bouldering
Campfire Programs
SCHEDULE
Note – this schedule may vary slightly depending on which camp property you attend. See property specific pages to find a more detailed schedule. No meal are served the night of arrival to camp.
FRIDAY
6:00 pm Check In/Registration
7:00 pm Camp Tour/Emergency Drill
SATURDAY
7:30 am Breakfast
8:50 am Opening Flag Ceremony
9:00 am Morning Rotations – move around camp doing age appropriate activities. Each activity is about 60 minutes long.
12:00 pm Lunch
2:00 pm Afternoon Rotations
5:30 pm Dinner
7:00 pm Free Time/Sign Up Programs – sign up for your favorite activities like boating, climbing, pool, shooting sports!
8:00 pm Evening Campfire Program
9:00 pm Campsite Time
SUNDAY
7:30 am Breakfast
8:50 am Opening Flag Ceremony
9:00 am Morning Rotations
12:00 pm Closing Ceremony
12:30 pm Lunch / Check Out
3:00 pm Outpost Begins (must be pre-registered)
ADVANCEMENT
Scouts will have a chance to complete a wide variety of advancement by participating in all of the activities! While at camp you will be given a list of requirements earned, by rank, and it will be the parent or Pack leader's responsibility to sign off on these for the Scout when they return home. See the requirements earned at camp sheet for more detail.
WEBELOS OUTPOST
WHAT IS WEBELOS OUTPOST?
Scouts who are entering 4th grade in the fall have the opportunity to stay at camp an extra night! During this time activities will be geared toward introducing Webelos to what the next level of camping will be like. You can look forward to hiking, setting up their own tents, building fires, dutch oven cooking and much more!
WHEN IS WELEBLOS OUTPOST?
Webelos Outpost will begin at 3:30 pm on Sunday afternoon and wrap up around 11:00 am on Monday.
HOW MUCH DOES IT COST?
It is an additional $35 per person to attend Webelos Outpost.
HOW DO I REGISTER FOR WEBELOS OUTPOST?
You must first register for your weekend of Cub Scout Summer camp, and then you will see an option to select "Webelos Scout plus Outpost" or "Adult plus Outpost". By selecting this, you will automatically be charged the additional fee and be registered for the program!
Learn More and Register Today!