Arrow of Light Camp – for Scouts entering the 5th Grade this Fall
Did you know that Arrow of Light Scouts (2022-2023) have a special camp designed just for them? Join us at Tomahawk Scout Reservation for a unique experience as your Scouts start to transition to Scouts BSA.
Learn more and Register Today!
WHO CAN ATTEND?
Cub Arrow of Light Summer Camp is open to youth entering 5th grade in the fall (Webelos rank).
DO PARENTS HAVE TO ATTEND?
We highly encourage that an adult attend with every Scout. It helps the Scout and is a great experience for the adult as well. This adult can be a parent, guardian or other family member over the age of 18. A den needs one adult for every four youth at camp with a minimum of two adults per group.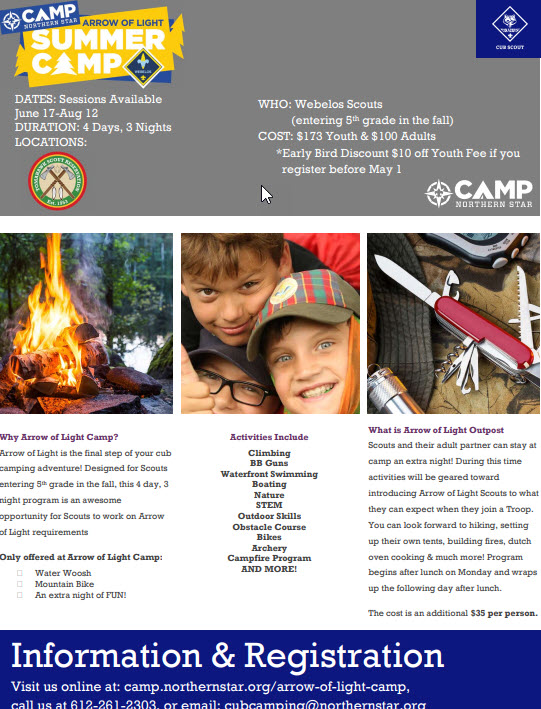 HOW MUCH DOES IT COST?
2022 Fees:
$158Youth Early Bird Fee; $163 Youth after May 1st
$100 Adult
WHAT IS INCLUDED IN THE FEE?
The fee includes all of your meals, a patch for every participant, housing (tentr), program supplies, and staffing costs.
IS THERE FINANCIAL AID AVAILABLE?
Yes! We think that every Scout should have an opportunity to attend Summer Camp and we do not want cost to hold anyone back from this experience. If you are in need, please complete the Campership Form to receive up to 50% of the youth cost covered.
WHEN IS ARROW OF LIGHT CAMP?
Our sessions will typically run from the middle of June to the middle of August. See the Register tab for this year's dates!
ARROW OF LIGHT OUTPOST
Arrow of Light Outpost is an extra day of camping at Tomahawk. Staying through Monday, Scouts will spend time with a Scouts BSA troop, see how they are running and what they get to do, then replicate it for themselves. On Tuesday morning, participants will take a trip out to Logging Camp for logging-themed activites such as blacksmithing and branding. Meals, staffing, campsite, and equipment are all included in the $35 extra fee.
Learn more and Register Today!