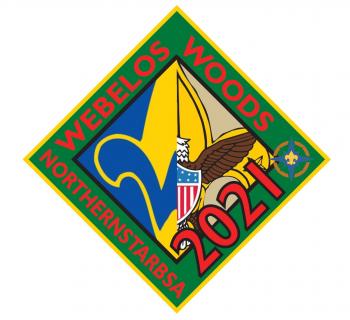 Webelos Woods is a program designed for Webelos, enabling them to discover first-hand the excitement and fun of the Scouts BSA program. Built around the concept of a Scouts BSA campout, Webelos Woods is staffed by Scouts BSA members that provide the resources and skills to participating Webelos Dens and their parents. Throughout the weekend, Webelos and their parents will have the opportunity to experience Scouts BSA programming in an engaging and safe environment.
Northern Star Scouting's Activities and Civic Service Committee will be offering two Webelos Woods session in 2021. Join us May 14-16 at Stearns Scout Camp, or May 21-23 at Phillippo Scout Reservation. The event registration page has frequently asked question sections for Webelos participants.  Please follow the links below to learn more, and sign-up.  We hope to see you this Spring!
Event Cost
$30 for Webelos/ Webelos Leaders and Parents.*
$25 for Scouts BSA Members and Leaders.*
*Prices include breakfast, lunch, and dinner on Saturday, as well as a Sunday departure breakfast.
Tri-Fold Webelos Woods Brochure
Registration Instructions
All Webelos and adults from a Pack should register in one of the Patrol Campsite slots. We encourage a parent to attend with each Webelos. The group must include at least 2 registered adult leaders.
When updating the participant information, please add email addresses for the adults, but not for the youth.
The registration contact information update includes a space to designate a desired partner unit. We will do our best to match Packs with Troops based on this information.
Event FAQ for Webelos Dens
Thank you for taking the step to learn more about the Scouts BSA program by experiencing Webelos Woods!  As a Webelos registrant, you will form a provisional Patrol during the event, and participate alongside Scouts BSA members.
1.  What is my Webelos Den expected to provide by participating in Webelos Woods?
Webelos registrants should plan on brining the personal equipment necessary for a weekend campout (e.g. sleeping bag, toiletries, change of clothes etc.).  Scouts BSA units will help in providing cooking equipment and shelter during the event.  Check out the packing list in the event attachments on this site for more information.  
2.  How many Webelos and adult leaders/ parents can my unit bring to the event?
The organizing subcommittee is recommending that units bring no more than 20 Webelos and adult leaders/ parents to the event.  The event sites are limited to 25 participants, so the remaining site occupancy will be reserved for Scouts BSA members/ leaders.
3. How does my Den register for the Webelos Woods event?
Dens (or Packs) will register for the event by selecting one of the campsite options.  Campsites are labeled 1-10, and have a maximum registration of 20 participants.  After registering, your unit will receive information regarding your physical location at camp, as well as your partnered Scouts BSA unit.  
4.  How can my Webelos Den select which Scouts BSA unit to be partnered with during the event?
The registrant contact will have the opportunity to list a preferred Scouts BSA unit match during the registration process.  All attempts will be made to facilitate requests, but there is no guarantee that every request will be able to be fulfilled.  
Questions?