2021 Order of the Arrow Vigil Conclave and Reunion
All Vigil members are invited to join their fellow Vigil brothers at the Totanhan Nakaha Vigil Conclave, August 21st and 22nd, 2021 at Phillippo Scout Reservation. We will induct our newest members of the Vigil honor, renew our Vigil experiences, and share the fellowship of our brothers.  This will also be our 6th Annual Vigil Reunion beginning at 9:00 AM on Saturday. All participants (candidates and reunion goers) should arrive by 8:00 AM on Saturday.
Check-in opens for all on Saturday, August 21st, between 8:00 AM and 8:30 AM.
Check-in for the event will be at the Dining Hall at Phillippo Scout Reservation.
The Vigil Conclave will end on Sunday, August 22nd at 10:00 AM.
All participants will need to bring a copy of their Annual Health and Medical Record (parts A & B), as well as a Health Screening Checklist.
Register Online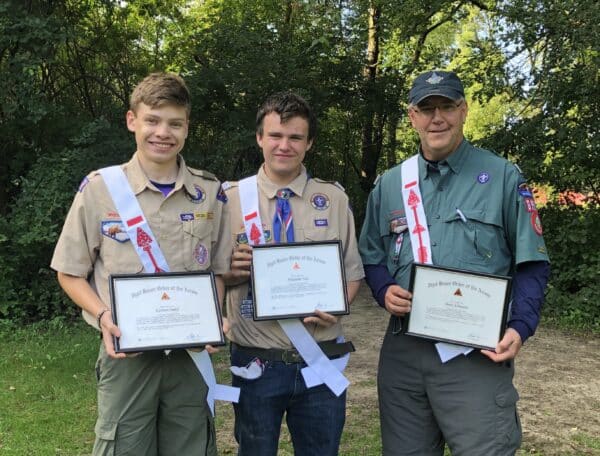 FAQ COVID-19
1.  Are there restrictions on who can attend the Vigil Conclave and Reunion?
We are asking those participants with serious underlying medical conditions as outlined by the CDC to not attend camp for their own safety. Those who are in this group need to have a conversation with their medical provider when considering attending Vigil Conclave and Reunion.
2.  What are the expectations for travel to and from the Vigil Conclave?
We encourage people to travel to and from the Vigil Conclave as families or household groups if possible.  This may not be possible for all sponsors and candidates, in which case masking and other preventative measures are recommended.  
3.  What social distancing measures will be in place at the Vigil Conclave and Reunion?
We fully anticipate social distancing will be a part of our Vigil Conclave.  We are encouraging participants to adhere to best practices, including maintaining six feet of distance when possible.  Masks should be worn when it is likely that participants will be within 6 feet, and when inside structures. 
4.  What will health and sanitation look like at the Vigil Conclave?
Expect more frequent required handwashing, greater access to handwashing supplies and hand sanitizer.
5.  Will we be required to wear masks while participating in the Vigil Conclave?
Based on guidance participants will be required to wear masks when social distancing cannot be maintained.
6.  What if a participant shows symptoms of COVID-19 after attending the Vigil Conclave?
Our expectation is that any participant who exhibits symptoms of COVID-19 would promptly contact their physician for evaluation.  If a test is administered and the results are positive for COVID-19, a public health official will contact the individual. Please discuss the individual's involvement in a Scouting activity with them and provide Northern Star's contact information (Kris Burbank: 612-261-2450 or [email protected]).  Public health will reach out to us directly.
If the symptoms occur greater than 14 days after conclusion of the activity the risk of COVID related to the activity or transmission to others present at the activity would be extremely low.
7.  Are Health Forms and Pre-Screening Forms required for participants on-site for less than 72 hours?
Yes, all participants remaining on-site will require a Pre-Screening Form and Health Form to be submitted.
8.  Will indoor accommodation be available at the Vigil Conclave?
At this time, it is not known what limitations will be in place regarding indoor accommodation capacity.  We will try our best to accommodate every request, but cannot guarantee we will be able to fulfill every request for indoor housing.  While registering you will still have the opportunity to identify your housing preference.  If your option is not available by the time of the event in August, you will receive a communication heading into the event.   
Questions?