School Night For Scouting 2019
Our Fall Recruitment of Cub Scouts - Overview
School Night for Scouting (SNFS) is the centerpiece of our fall recruitment campaign. While the emphasis is placed on exposing families to the Scouting adventure and the recruiting of K-5 youth for Cub Scouts, it is also important that troops take advantage of this opportunity to recruit from among the 5th graders. On Thursday, September 19, 2019 we will have our Cub Scout (and Scouts BSA) leaders in every elementary school from 6PM until 7PM. for the sole purpose of helping new families join scouting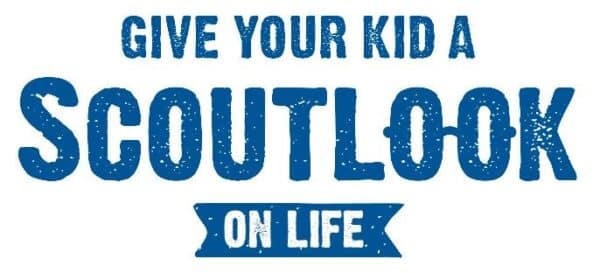 2019 School Night for Scouting Theme
The 2019 School Night for Scouting theme is 'Give Your Kid A New Outlook On Life'. It was picked because Scouts see the world a little differently. Because they're schooled in problem-solving, they see solutions where others see impossibilities. Because they spend so much time in the outdoors, they see the beauty and interconnectedness of the natural world, the thrill and challenges of being one with it. Because they're exposed to extraordinary people - adult leaders, older Scouts, their own peers - they see the value of experience, the importance of character, the gift of diversity, the joy of companionship. Because they're given countless opportunities to think creatively, they see creativity as part of a whole life, not some off-limits clubhouse reserved for a special few.
As parents, what more could we want for our kids than for them to have a broader perspective? In short, we want them to have a Scoutlook on life. Because seeing and experiencing the world from a Scout's vantage point puts you Scout-ahead of the rest of the world.
Date and Location
School Night for Scouting will be held at every elementary school in Minnesota, parts of  Wisconsin, and South Dakota on Thursday, September 19th from 6PM until 7PM.
Cost and Registration
The paid registration in September of $44 covers the remainder of 2019 and all of 2020. The optional, annual subscription to Boys Life magazine is $16. You'll be able to register in-person no matter which school you visit.
Can't Make It?
Don't worry! If you can't make it out to School Night for Scouting, you can register online! Visit www.AdventureIsCalling.org or Join JoinCubs.org
School Night for Scouting 2019
Turn-in Center for the Evening - Sept 19, 2019
Minnetonka Community Center (Minnetonka Mills Room 7-9PM)
14600 Minnetonka Blvd
Minnetonka, MN 55345
map
Vicki Jurek
Membership Chairman
Vicki.Jurek@lmdbsa.org