June Roundtable – WHAT TO EXPECT – Jun 6, 2019 – 7:00PM – MINNETONKA COMMUNITY CENTER
What to expect at this month's Roundtable Meeting
The monthly District Roundtable meeting provides an information and training forum for adults involved as leaders in the Scouting program. Parents and children are welcome to attend. These meetings allow attendees from all parts of the Scouting program to:
◾ 
Discuss topics of interest, both formally and informally
◾ Learn new skills and program topics for your unit
◾ Learn about upcoming District and Council events
◾ Meet and exchange ideas with other leaders from the District
Roundtable is open to all adults involved with the Scouting program. Registered leaders are especially encouraged to attend.
LOCATION:  Minnetonka Community Center 14600 Minnetonka Blvd, Minnetonka, MN 55345
Save time, check in now!
Each Scout unit should send at least one representative to each Roundtable meeting.
_______________________________________________________________________
HOUSEKEEPING
Facebook Live has been discontinued. We encourage you to attend roundtable in person.
---
6:30PM  Check-In – Social Time
ROUNDTABLE OPENING
7:00PM  Flags and Announcements
Opening Flags
Announcements
---
7:10 PM  Shared Cub Scout and Boy Scout Breakout Program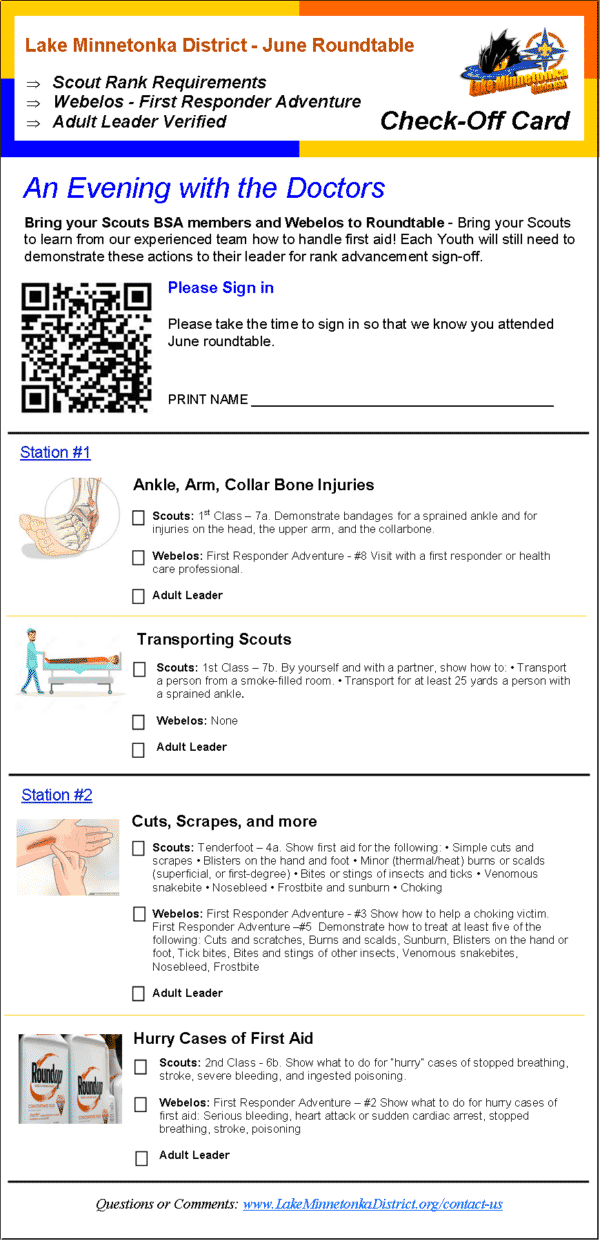 An Evening with the Doctors!
First aid is a critical skill in Scouting. If you're active outdoors, you've probably had to do some form of first aid. As a leader, not only do you need to be prepared for these situations, you may get asked to teach these skills to your Scouts.
Bring your Scouts to learn from our experienced team how to handle first aid! Each youth will still need to demonstrate these actions to their leader for rank advancement sign-off.
We'll teach the following requirements.
Scout Rank Requirements

Tenderfoot – 4a. Show first aid for the following: • Simple cuts and scrapes • Blisters on the hand and foot • Minor (thermal/heat) burns or scalds (superficial, or first-degree) • Bites or stings of insects and ticks • Venomous snakebite • Nosebleed • Frostbite and sunburn • Choking
2nd Class – 6b. Show what to do for "hurry" cases of stopped breathing, stroke, severe bleeding, and ingested poisoning.
1st Class – 7a. Demonstrate bandages for a sprained ankle and for injuries on the head, the upper arm, and the collarbone.
1st Class – 7b. By yourself and with a partner, show how to: • Transport a person from a smoke-filled room. • Transport for at least 25 yards a person with a sprained ankle.

Webelos First Responder Adventure

#2 Show what to do for hurry cases of first aid: Serious bleeding, heart attack or sudden cardiac arrest, stopped breathing, stroke, poisoning
#3 Show how to help a choking victim
#5 Demonstrate how to treat at least five of the following: Cuts and scratches, Burns and scalds, Sunburn, Blisters on the hand or foot, Tick bites, Bites and stings of other insects, Venomous snakebites, Nosebleed, Frostbite
#8 Visit with a first responder or health care professional.
COME HAVE SOME FUN – AND REMEMBER – KIDS ARE ALWAYS WELCOME AT ROUNDTABLE!!
____________________________________________________________________
7:00 – 8:30 – OA CHAPTER MEETING DURING ROUNDTABLE 
Meetings of the Lake Minnetonka Chapter of the Totanhan Nakaha Lodge, Order of the Arrow, are held in conjunction with the district roundtables on the first Thursday of each month.
____________________________________________________________________
6:00 – 6:50 – COMMISSIONERS MEETING 
Commissioners Meeting is for the Commissioners AND District Members.
The main topics on the agenda for our meeting will include the following.
It is time to have your have your key unit leaders (or you) Update the District Unit Map
GuidePost 2 and 3 Develop a program and funding for your unit by Aug 31.
Roundtable Attendance / Identify Units that are not attending / Why?
Open Units who need a Commissioner
Logging Unit Visits