DON'T MISS THE 2019 SUMMER CAMP ORIENTATION
February 2, 2019, 9:30 AM-12:00 PM, Base Camp, Fort Snelling, MN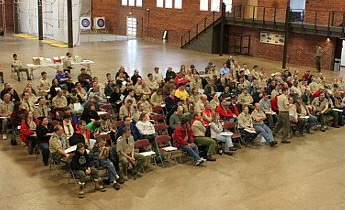 If you want to make the most of your camp experience this summer, please join us at the Summer Camp Orientation to get organized, ask questions, and most importantly, bring back information on the best new programs for your Troop or Crew! This information is essential for both adult and youth leaders, so please don't miss this opportunity.
This Summer Camp Orientation will be held on Saturday, February 2, 9:30 Am to 12:00 PM, at Base Camp, 6202 Bloomington Road in Fort Snelling. We'll have a general introduction at 9:30 AM, cover the Older Scout Adventure Programs, Site Swapping and the All-Star Program at 9:45; at 10:00 we'll discuss 2019 Summer Camp Planning Information, and at 11:00 How to Promote Summer Camp.
Topics to be covered at this orientation include:
What's NEW for 2019
Older Scout Opportunities
Summer Camp Presentation Materials
How to Promote Summer Camp to Your Scouts
2019 Leaders' Packets will be Available
If you are unable to attend, we'll be recording the presentation for future viewing and streaming live on http://www.facebook.com/camptomahawk.
The 2019 Leaders' Guides and accompanying documents will be available online at http://www.camptomahawk.org/ and http://manypoint.org/ on February 1.