2018 SPOOKY-REE – Oct 12-14, 2018
A SCARY GOOD TIME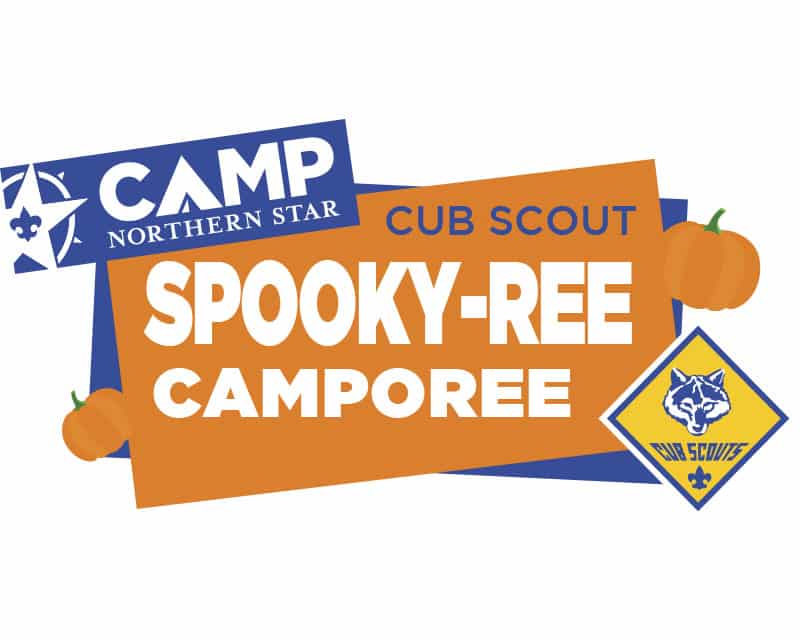 Come to Stearns Scout Camp for a Spooky-good time. We'll scare your socks off while you play games, eat candy, learn camp skills, and have fun. Don't forget to bring a costume!
WHO CAN GO TO THE SPOOKY-REE?
Cub Scouts (Lions to Arrow of Light Scouts), Parents, and Siblings
HOW MUCH DOES IT COST?
Fees for 2018 are below.
Cub Scouts $30
Siblings age 5-11 $15
Adults $5
Siblings 4 & under are free
$5 per person per meal (optional – See Food Service Below)
You may choose to cook your own food or eat in our dining hall. If you choose to cook your own food, a propane stove with fuel will be provided at no charge. Eating in the dining hall is $5 per person per meal.
HOW DO I REGISTER?
Registration opens the day after Labor Day each year! Mark your calendars now so you don't forget! Click the Register tab on this page to pick your location.
WHAT SHOULD I BRING TO CAMP?
Spooky-Ree is a full weekend event. Make sure you are prepared for an entire weekend away from home. Use this checklist as a baseline as you get packed.
Sleeping Bag
Warm Layers (October can be cold in Minnesota)
Rain Gear
Flashlight
Eating Utensils and Cooking Supplies (If cooking in your own campsite)
Sturdy shoes
Water Bottle
Toiletries
Halloween Costume!
WHAT FORMS DO I NEED TO BRING TO CAMP?
Every participant (youth and adult) must have a completed health form – parts A and B. You also need to bring a shooting sports waiver for every child participating bb guns, archery, or slingshots.
WHAT SHOULD I DO IF I HAVE DIETARY RESTRICTIONS?
We do our best to provide safe and healthy meals for all of our participants. We ask that you complete the medical information section of your online registration to inform us of any dietary needs. You can also contact via phone or email to discuss a particular need. Common restrictions that we are usually able to handle are: nut allergies, lactose free, gluten free, and vegetarian. If you have other needs please be sure to contact us 2 weeks prior to attending Spooky-Ree.
HOW TO REGISTER
Details and Registration