Lake Minnetonka - Annual Recognition Dinner 2018
Thursday, May 3, 2018 at the Wayzata Country Club, Wayzata.
Our Volunteers Are A Treasure!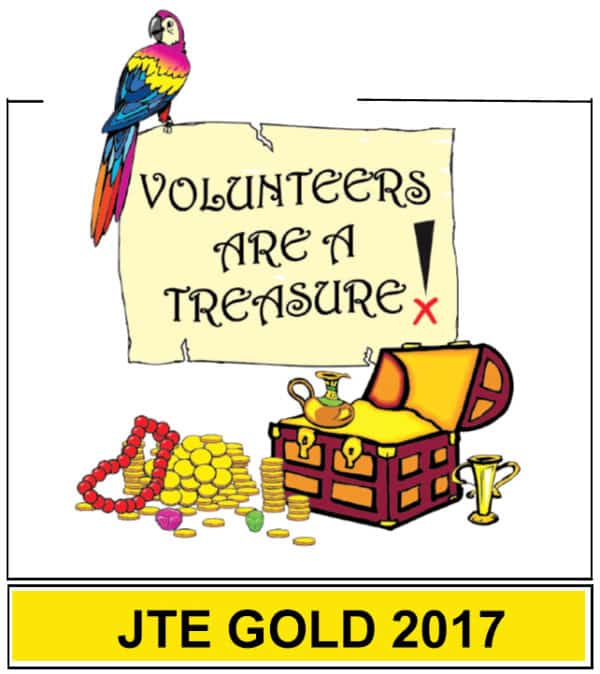 The Lake Minnetonka District held their 2018 District Dinner and Recognition event on Thursday, May 3, 2018, at the Wayzata Country Club. The friendship and fellowship of all of our volunteers added to the theme of the evening! Thanks to all of you that attended. It was a special evening of food, fun, friendship and fellowship as we celebrated our theme, Volunteers Are A Treasure, and recognized the District attaining 2017 JTE Gold status; all while honoring our successful units, leaders, and youth in the program over the past year. We announced that Scott McCullough and Rob Houts have been nominated for the Order of the Arrow Vigil Honor by Totanhan Nakaha Lodge.
In addition to recognizing our Journey to Excellence units in the Bronze, Silver, Gold, and Platinum categories (74% of our units) and our JTE Gold-level District, we noted the 81 young men in the District earned their Eagle Scout rank in 2017, and our four Eagle scholarship winners. We awarded 21 Glowing Embers from our units, and recognized our outstanding Scouters in the Cub Scout, Boy Scout and District ranks. Recognition was also given to our 2017 Lake Minnetonka District Silver Beavers
Sandy Werts and David Olson, who both received their awards at the Council Recognition Dinner in March at the Golden Valley Country Club.
We had a special guest, Max Huffman, a Webelos Scout from Pack 391, who was recognized for earlier this year with the Medal of Merit for his life-saving actions last summer.
We thanked our outstanding Charter Partners, Wayzata Community Church and Mt Calvary Lutheran Church for their multiple years of support. We also thanked our outgoing Membership Chair, Troy Ebensteiner, and Past District Executive Jacob Stonesifer for their support of the District over the past year.
Finally, we honored our District Award of Merit recipients Jim Kangas, Brett Schneider, and Dana Geller.
Special thanks to our District Committee and Commissioner staff, especially District Chair Nick Pedersen, District Commissioner Allan Arntson, District Community Relations Executive Nicole DeYoung, District Program Relations Jim Bollback, as well as District Committee Members Jeff Pastir, Charlie Jones, Bill Hittler, Tony Schuft, Sally Jensen, Nira Rajan, Donna Larson, Tina Ramacier, Troy Ebensteiner, Jim Lindfors, Julie Terpstra, and Vicki Jurek for presenting during the event. Thanks as well to Mark Probst, Suzy Peterson, David Larson, and Jim Kangas for their work preparing for the District Dinner and awards.
Congratulations to all our volunteers and youth in the District for another successful Scouting year. We celebrate with you and look forward to working with you all in the future to help achieve your goals. If you did not nominate or attend this year's event, please consider attending next year and recognizing your outstanding volunteers.
Let us know what you thought of the evening by using the CONTACT US bottom below!
Units that Qualified for Journey to Excellence in 2017
Award Recipients 2017
District Award of Merit

Outstanding Scouter Awards
Previous Annual Recognition Dinners
Awards and Photographs
Award Recipients 2017 - Continued
2017 Silver Beaver Award Recipient
Previous Silver Beaver Award Recipients
Glower Ember Awards
100% Unit Trained Awards
Outstanding Contribution Awards
Eagle Scout Scholarship Recipients
Troop 537 - Michell King
Troop 537 - Gregory Lansing
Troop 292 - Grant Ogilvie
Troop 537 - Anish Puri
Merit Medal
Award and Training Knots
District Committee Key - Nick  Pedersen
Scouter's Training Award - Lee Parsons, Robert Williams, Nira Rajan, Viki Jurek, and Mellisa Stanfa-Brew
Unit Leader Award of Merit - Moose Stolarzyk
Order of the Arrow Vigil Honor