2015 Fall Camporee - Survivor Challenge and Group Hurl! - Sep 25-27, 2015 - Results and Photos
We owe a huge thank you to our host units, Troops 206, 537, 567, and 571 for putting on a great weekend program.  But a special THANK YOU is warranted to Troop 206 from Orono, not only for serving as a host, but also for going above and beyond their host responsibility by bringing in over thirty-five pounds of fish for the cooking demos.  Everyone who wanted to learn different cooking methods for preparing fresh fish was able to jump in and get their turn in the outdoor kitchen.  They also got to enjoy a great fish snack!  The demo and tasting event included home-made potato chips and Dutch-oven desserts to try!  It's was clear, NOBODY was hungry after such a great spread!
Certainly, everyone who attended enjoyed the fantastic program and the great facilities at Camp Stearns.  Thank you to all the attendees, parents, and everyone else who made this a great event. Also, thank you Lake Minnetonka District staff for working together with everyone to deliver yet another fantastic experience for our youth.
We look forward to seeing you again at our next large district event, Fall Camporee 2017.   Watch for details coming soon!
Thank you
Daron Meyer
Activities Chairman
[email protected]
Event Details
Survivor Challenge and Group Hurl!
On a beautiful Fall weekend at the end of September, close to 300 Scouts from the Lake Minnetonka area converged on the banks of the Mississippi River. The Tribes faced a series of challenges which tested their teamwork and Scouting skills. Challenges included pioneering, orienteering, a memory & observation challenge, defeating a killer tropical spider, and, of course, fire building. The afternoon challenge focused on the Group Hurl, where tribes using only timbers & ropes built a device to fling coconuts for distance and accuracy. Troop 426 won the Group Hurl with an amazing Scout powered catapult. (continued under slideshow)
Camporee Information
Patch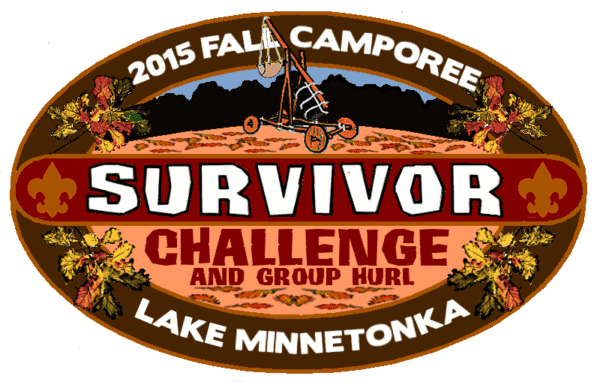 Saturday Day Activities
Camp Overnight
Administrative
Archives and Photographs
Share Your Photos With Us
If any Scout, Scouter, or Parent has photographs of this event to share with the District please
email your pictures to the webmaster.
Download or Order Paper Prints
From this page you may share and send pictures by email, view a larger picture, download photographs, or order a paper photograph by using this link, download