Centennial Quality District 2007-1010
Centennial Quality District
The Lake Minnetonka District was named a Centennial Quality District for each of the last four years: 2007 - 2010.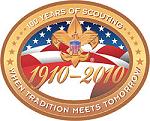 This program has been replaced by the Scoutings Journey to Excellence Program starting in 2011.
The Centennial Quality Awards program is designed to recognize units, districts, councils, areas, and regions for achieving excellence in providing a quality program to a growing youth population in America at all levels of the Boy Scouts of America.
The Centennial Quality Award is named in celebration of the 100th anniversary of the Boy Scouts of America. The award began in 2007 and continues until 2010. Each year that you qualify, you will qualify to receive recognition for that year.  There was a red background in 2007, a white background in 2008, a blue background in 2009, and 2010 will have a red, white, and blue background.
The BSA National Strategic Plan is guided by five pillars supported by measurable, specific goals. The plan requires immediate and continued attention to each pillar. Each year there will be an emphasis on one of the pillars.
2006-Emphasized research in guiding our movement.
2007-Focused on helping every local council to become fiscally sound.
2008-Launch a campaign to engage 1 million new volunteers.
2009-Salute chartered organizations and strategic alliances and highlight our tradition of service.
2010-Celebrate our 100th anniversary.
"Excellent" work, Lake Minnetonka District!
Lake Minnetonka District Key-4
Congratulations to the Units that Qualified for Centennial Quality Unit for 2010
Overall 100% Qualified
We continue to work with some units.
Special Note:
If the centennial award is earned all four years, a special distinction will be available to recognize groups who qualify in 2010.
The award patch is displayed on the uniform's right sleeve below the patrol emblem or den numeral. Only the most recent year's patch is worn, not a string of past year patches.