Spring Camporee 2019
LEAVE NO TRACE - BIKE CAMPOREE
May 3-5, 2019
Friday through Sunday
Lake Rebecca Park Reserve - Rockford, Minnesota
Price $15.00
Join us for Spring Camporee 2019 at Lake Rebecca Park Reserve in Rockford, Minnesota where attendees can ride their bikes throughout the park on the extensive bike trails, or hike on the various walking paths. The focus of the camporee will be to understand the seven principles of 'Leave No Trace', participate in various troop competitions, programs, and merit badges, including presentations and demonstrations by Erik's Bike Shop and Gear West.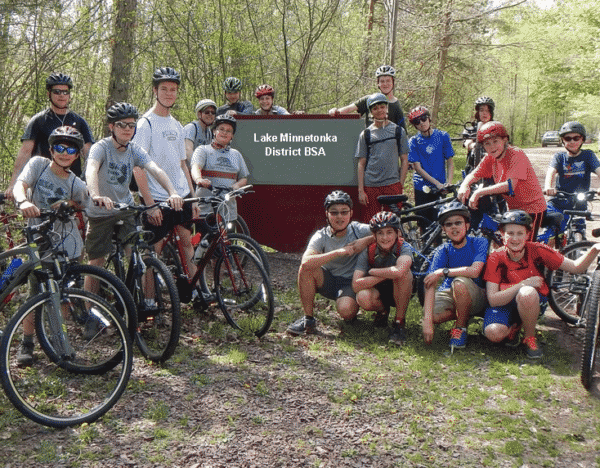 This will be a more traditional camporee, which will include tent camping, hiking, cooking, crafts, a bike safety check, and troop competitions.
Bring your bikes to camporee!
Free bike safety checks
Leave No Trace seven principles
Camp outside at Lake Rebeca
Merit badges

Cycling
Astronomy
Forestry

Backpack on your bike to camporee
Field games
Crafts
Troop competitions
Campfire program
Camporee patch!
Please mark your calendar to save the date for Spring Camporee, May 3-5, 2019. There will be plenty of down time where troops and crews can relax or pursue their own schedules.
Webelos are encouraged to attend and camp with a Troop! This will be a fantastic event you won't want to miss.
Great for Webelos! Come for just the day on Saturday, or sleep overnight with a Troop.
Price per Person – $15.00 (One price - all day Saturday or stay the weekend).
Check-in starts at 6:00PM Friday and the event runs through 9:00AM Sunday morning. All Scouts and their guests are invited. Please see the Camporee Information Packet for all the details.
Many thanks to our host units Troops 3206, 5283, 3481, 3571, Brian Klein, David Olson, Jim Lindfors, Brett Schneider, Julie Terpstra, Nick Fasching, Vicki Jurek, the District Activities staff for Lake Minnetonka for working on this camporee.
REMAINING UNTIL
---
Spring Camporee 2019
LEAVE NO TRACE - BIKE CAMPOUT
May 3-5, 2019
Baker Park
Lake Rebecca Park Reserve, Rockford, MN
---
CAMPOREE DETAILS 
The details for this camporee are found in the "Information Packet" posted under the Camporee Resources, found below if using your cell phone, to the right if you are using your laptop. Please read through this document. The document also includes links to the merit badge worksheets for this camporee.
The Camporee Information Packet includes a "Unit Check In Form". This form must be used when you check in at camporee.
---
NOTE: Scholarships are available for families in need. Unit leaders please use the email link below. Your request will remain confidential. Please contact Scott.Janke@lmdbsa.org
---