Winter Camporee 2018 – Return of the Yeti – Feb 16-18, 2018 – COME OUT FOR THE DAY – Registration Closes in Four (4) Days
Race with Your Yeti In the Klondike
Baylor Regional Park –  Carver County
Join us for a spectacular weekend Feb 16-18 where we expect ideal conditions for a winter camporee.  It won't be too hot (plenty of snow) and it won't be too cold (mid 20s) so things are looking to turn out JUST RIGHT!   Days are getting longer and the sun is getting higher in the sky.  The ice is strong and people are out catching fish. The ski trails are groomed.  It doesn't get any better!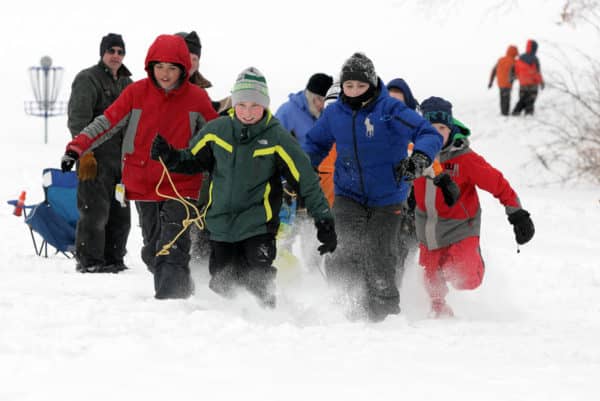 Even if your unit doesn't feel like winter camping, you and your den, patrol, or crew are certainly welcome to join us for the day's activities on Saturday.  You'll be able to talk with winter camping experts to learn from them and see if this is something you'd like to try.  (Best kept secret of winter camping . . . NO BUGS).
We have a great group of experienced Scouters, and Camping and Wilderness Survival MB Counselors that will be happy to share their knowledge with you. You'll also certainly want to experience the annual Klondike Derby and see which troop will take home the trophy this year!   In addition, each Klondike team will be hauling a Yeti, and we'll be recognizing the best Yeti costume with a special award at Saturday's campfire.
Get the dust off that old troop sled and reintroduce scouts to the experience of just being with other scouts for an outdoor winter fun.
Camporee Activity and Opportunities
Ice Fishing Demo AND Competition
Snowshoeing – BYO
Cross-country Skiing
Quinsy Building
Best Troop Campsite Competition
Scavenger Hunt
Sky Watch
Outdoor Desert Cooking Competition
Merit Badges
Klondike Race (pull your Yeti in the sled)
Campfire Program
Merit Badges (Partial Credit) – Astronomy, Fishing, Mammal Study, Snow Sports – Nordic Ski, Wilderness Survival. Merit Badge worksheets are available for download on the camporee resource page of the district website.
For the Webelos – Ice fishing, snowshoeing, cross country skiing, quinzee building, sky watch, dessert cooking competition, and the campfire program.  Indoors heated headquarters, district hospitality, First Aid, and Webelos respite.  It will be a fantastic event that you won't want to miss!
Many thanks to our host troops 426 and 430, Troop 570, Julie Terpstra, Nick Fasching, David Olson, Jim Lindfors, Jeff Gresenz, Brian Klein, Scott Vondracek, and the Order of the Arrow for working on this camporee.
This will be a fantastic event you won't want to miss!  Invite your Webelos to camp overnight! Perfect for LDS units since day-only Saturday, or Friday evening camping is a great option!
Camporee Resources and Registration
Thank you.
Daron Meyer
Daron.Meyer@lmdbsa.org
Julie Terpstra
Activities Committee
Julie.Terpstra@lmdbsa.org
952-474-5092
Scott Janke
Vice Chair and Key 5
Scott.Janke@lmdbsa.org