Updates added to the District Unit Map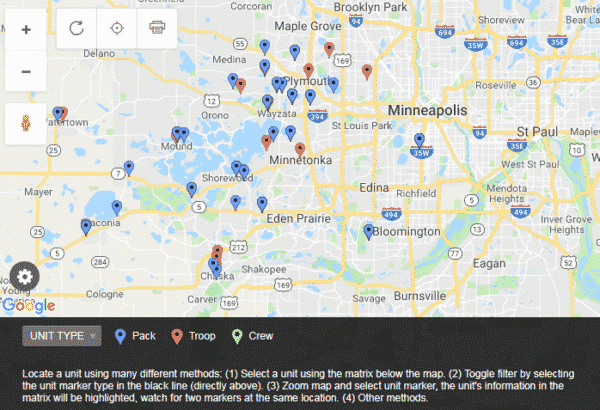 The District Unit Map is now easier to use by unit leaders, district members, and parents. The contact information for each unit, key unit leader, and commissioner is included.
The updates:
SEARCH BAR was added to the upper right corner of the page
Girl troop indicator added
Larger pop-up added when you click on a marker
Title was added to the page
 A 'street view' of each meeting location added from Google Streets
Better user directions
The District Unit Map can be found at  www.lmdbsa.org  Home/ District Unit Map, or direct link www.lmdbsa.org/district-unit-map/ . Click on the blue button, "Unit Map – Including Unit and Key Leader Contact Information".
If you discover any information that is not correct, please let the district know by clicking blue button, "Update Your Unit's Information", www.lmdbsa.org/district-unit-map/.
Thanks go out to Mike Lawrance (Troop 283 and district member) for his suggestions and work on this project.
Lake Minnetonka District BSA