Unit Glowing Ember Award Selections Remain Open Until Apr 22, 2019 – District Award Nominations And Upcoming Recognition Dinner
The unit Glowing Ember selections were due Monday, April 15, 2019. However, since the award is selected by the unit and presented by the district, the deadline has been extended until April 22, 2019 at 11PM.
Please take the time to select a parent or Scouter, from your pack, troop, or crew that has given that extra bit of contagious enthusiasm to the members of your Scout unit. Your recipient will be presented with the GLOWING EMBER AWARD at the upcoming District Recognition Dinner on May 2, 2019, at the Wayzata Country Club.
This is YOUR opportunity to help us recognize those leaders who have made your experience as a Scouter better . . . better because you have been able to witness this person's devotion to Scouting.
Glowing Ember Award – The Glowing Ember Award is presented to those parents and Scouters who have been selected by their unit's committee members.
Each UNIT COMMITTEE may SELECT ONE INDIVIDUAL (parent or scouter) FROM THEIR UNIT to receive the District's Glowing Ember Award at the District's Recognition Dinner.
Please keep your nominations confidential. The deadline to submit your nomination is April 22, 2019 at 11:00PM  using the form located here.
Glowing Ember Received as of April 16, 2019 (one per unit)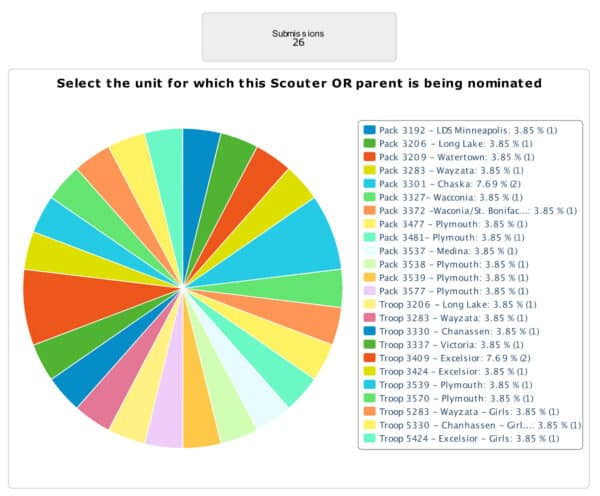 Join us for our 2019 Recognition Dinner
Make plans now to attend our District Recognition Dinner on May 2, 2019, at Wayzata Country Club, where we will present this year's District Award of Merit class, along with our position-specific and Glowing Ember awards. DINNER Reservations are now open! Spouses, family and friends are invited to attend!
Nomination Forms and Additional Information
Dinner Registration
Dinner Flyer
Thank you.
Donna Larson
District Nominations Awards Committee
Donna.Larson@lmdbsa.org