Scout Day with the Minnesota Vikings at US BANK STADIUM – Various Dates – Bring a non-Scout Friend to the Game!
Join us for Vikings football at its best at the new US Bank Stadium.  Bring a non-Scout friend to the game, participate in our peer to peer recruiting program, and have fun!
Tickets are available at a discount while supplies last through August 10, 2018.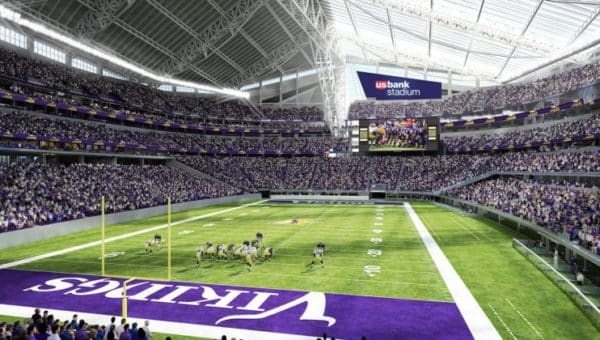 What incentives are there for Youth to Recruit (Peer-to Peer Recruiting)?
Any Scout who recruits a friend will receive the Recruiter Patch to wear on the uniform as well as the following :
Cub Scouts  – The new Cub Scout gets a FREE Day Camp registration. All scouts in pack can get tickets to Crayola Experience, Crayola Experience Flyer, if pack recruiting goals are met.
Boy Scouts – Recruit a Friend and you and the friend receive a pocket knife , once your totem chip has been achieved.
The District's Peer-to-Peer Recruiting Program 
One of the best ways to recruit new Cub Scouts is 'peer-to-peer'. When a Scout brings a friend to a scouting event (e.g., pack or den meeting, pinewood derby, field trip, etc), they both have fun! It's a fantastic introduction to Cub Scouts for the boys and their parents.
When a Scout brings a non-Scout friend to a scouting event and he joins scouting, both the scout and the friend receives a FREE Recruited-Recruiter patch.
Purchase Tickets
Thank you
Vicki Jurek
Membership Chairman
Vicki.Jurek@lmdbsa.org