Scout Day at TCF Bank Stadium – Sep 15, 2018 – Bring a non-Scout Friend to the Game – PURCHASE TICKETS NOW!
Football season is just a little over 2 months away and the Gophers just signed one of the best recruiting classes in Gopher Football history!  Don't miss the excitement and energy of Gopher Football, while enjoying a day out with your Den, Patrol, Crew, family, and friends.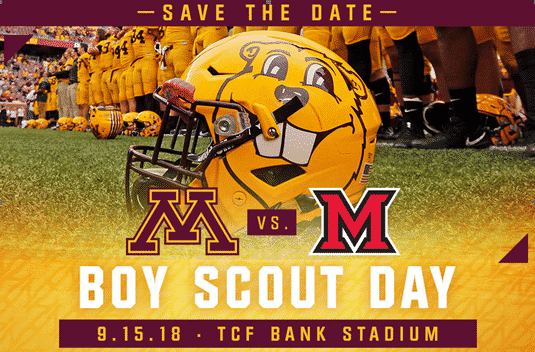 Invite Your Friends to the Gopher game on September 15, 2018 – Scout Recruitment Program
What incentives are there for Youth to Recruit (Peer-to Peer Recruiting)?
Any Scout who recruits a friend will receive the Recruiter Patch to wear on the uniform as well as the following :
Cub Scouts  – The new Cub Scout gets a FREE Day Camp registration. All scouts in pack can get tickets to Crayola Experience, Crayola Experience Flyer, if pack recruiting goals are met.
Scout BSA – Recruit a Friend and you and the friend receive a pocket knife , once your totem chip has been achieved.
Tickets are on sale NOW!
Purchase Tickets
The District's Cub Scout Peer-to-Peer Recruiting Program
One of the best ways to recruit new Cub Scouts is 'peer-to-peer'. When a Scout brings a friend to a scouting event (e.g., pack or den meeting, pinewood derby, field trip, etc), they both have fun! It's a fantastic introduction to Cub Scouts for the boys and their parents.
Lake Minnetonka District Scouts – if you bring a non-Scout friend to the game and he joins Scouting, you receive a FREE Recruited-Recruiter patch AND your friend also receives a FREE Recruited-Recruiter patch.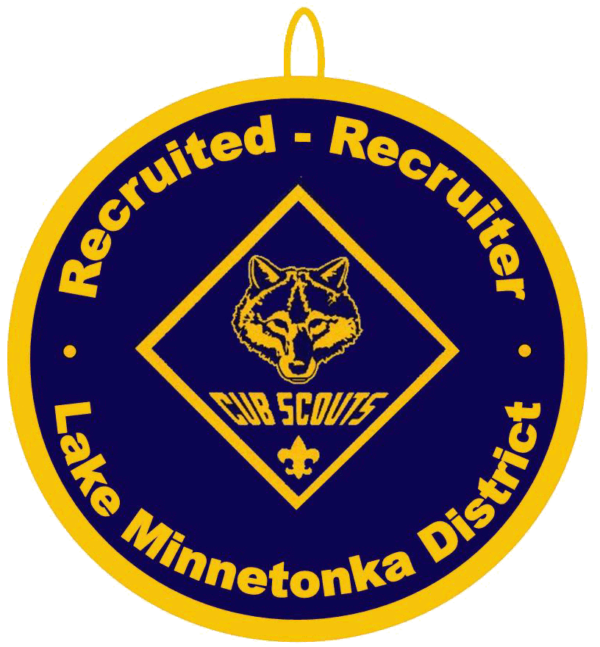 Adult Leaders, let us know using the attached form when one of your Scouts recruits a friend to join Scouting.  We will send you the patches by US Mail or you can pick them up at the October roundtable.
Request Patches
If you have any questions, please feel free to contact me.
Vicki Jurek
Membership Chairman
Vicki.Jurek@lmdbsa.org