Winter Camporee 2017
Arctic Blast
Lake Minnetonka & Northern Lights Districts
Feb 10-12, 2017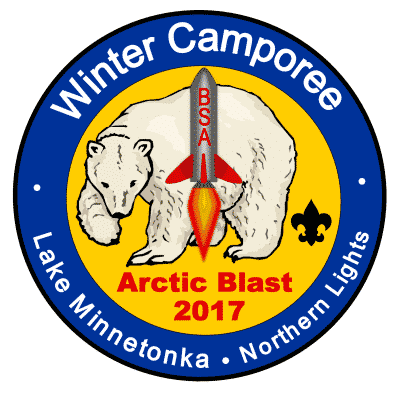 Many thanks to our host units T206, T283, T481, T570, Brian Klein, David Olson, Tina Ramacier and the Webelos Activities staff, the Order of the Arrow, and the district activities staff for Lake Minnetonka and Northern Lights, for working on this Camporee.

Boy Scouts and Venturers
Come join your fellow Boy Scouts, Venturers, and  Webelos and their parents from the Lake Minnetonka and Northern Lights District for our 2017 Winter Camporee at Camp Stearns.
Surrounded by the lakes, marshes, meadows and mature Camp Stearns is a quiet, protected setting that offers unique environmental and recreational learning opportunities.
We will continue with our popular carnival atmosphere where you can take advantage of preplanned merit badges and activities or create your own program and have some downtime. Highlights of the camporee will include a fun weekend of professional demonstrations, such as a sheriff ice rescue and drone demonstrations, rocket building demonstrations and rocket launches, Chinese lantern launches, and other traditional winter camporee activities, such as quinzee building and the Klondike Derby competition.
Bring your ready-made rockets to launch!
Merit badges will include fingerprinting, hosted by the sheriffs' department, and Space Exploration.
Webelos
Webelos are also absolutely encouraged to attend.
Webelos can participate in all activities and troop competition and even audit the merit badges. They are encouraged to visit the Webelos activities area.
There will be activities planned for Webelos during the day on Saturday, including games and other outdoor events.
Cooking on a Fire!
Competition
Camping
Campfire Program
Fellowship
FUN!
Guaranteed Weather
Webelos are encouraged to attend with a parent OR as part of a Troop. Webelos and their parent are welcome to just spend the day on Saturday, participate in the Webelos activities and the other camporee events, or stay the night with a parent.
Those Webelos who would like spend the night with a parent are in encouraged to make arrangements to camp with a Troop, or contact Scott.Janke@lmdbsa.org and he will locate a Troop for you.
It will be a fantastic event that you won't want to miss!
NOTE: Scholarships are available for families in need. Unit Leaders, please use the email link below. Your request will remain confidential leaders please contact Scott.Janke@lmdbsa.org
Winter Camporee Resources
Saturday Day Activities
Camp Overnight
Administrative
*Included in Information Packet
Archives and Photographs
Thank you
Daron Meyer
Activities Chairman
Daron.Meyer@lmdbsa.org