Pack and Den Super Power: Harness The Power of Those Wiggles – February Roundtable – Feb 7, 2019 7:00PM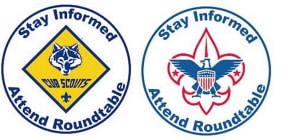 Greetings Scouters!
Please bring your stories of squirrelly, wiggly cub scouts for a TELL and RELATE! This will be an exciting session with hands-on learning activities and games, where we will learn a new Super Power!
Roundtable is February 7th, at 7:00PM.
You can always come early to socialize, and as I always say, KIDS ARE ALWAYS WELCOME AT ROUNDTABLE (parents and scout leaders are welcome to attend too.)
Check out the What to Expect at Roundtable for February http://www.lakeminnetonkadistrict.org/february-roundtable-what-to-expect-feb-7-2019-700pm-minnetonka-community-center/
At the February Roundtable there will be a guest speaker that you will not want to miss! It will be a HUGE HAPPENING, including the first ever performance from a Scout Band!!!
Join us for the February Roundtable. It will be one you have never seen before! You will not want to miss this one!
YIS,
Tina Ramacier 
District Roundtable Commissioner 
Tina.Ramacier@lmdbsa.org