Order of the Arrow – Information for All Arrowmen – Feb 11 – Feb 28, 2018
Order of the Arrow – Information for All Arrowmen
Feb 11- Feb 28, 2018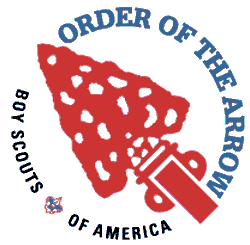 OA Elections for 2018 – 2018 OA youth elections run from NOW through April 15th. Your annual elections should be scheduled and coordinated – ensure your peer troop is committed to providing an election team. The OA chapter web page on the district web site is up to date with all information, links, and files.

OA on the District Website
March Chapter Meeting – March 1st – Youth Leadership Transition and Conclave Planning – Calling all youth Arrowmen – your chapter leadership team is changing, and you're invited help with the transition and take on a new challenge. Please plan on attending to learn more. We'll also start discussions on the fall conclave. This is where our newly elected candidates start their journey into brotherhood. The chapter wants to get an early start on next year so there is less pressure in September. Please come and show your support and decide which staff position is right for you, including ceremony teams.
April Chapter Meeting – April 5th – General Meeting – Planning will continue for conclave, specifically with ceremony teams and elongomats. And. there's always time reserved for fun and fellowship. Please continue supporting the chapter and your leadership team.
Upcoming Events:
Mar 9-11, 2018 – Indian Winter – Camp Wilderness. Indian Winter 2018 will offer an opportunity for Arrowmen across the section to participate in focus area including American Indian Crafts and OA Inductions and Ceremonies. The American Indian crafts will focus on learning about proper ceremony regalia. The construction and maintenance of individual regalia parts from roaches, chokers breast plates, breach cloths, leggings and moccasins to some of the less known. We will also cover regalia ranking though the use of accessories among the principal ceremonialist. http://www.lakeminnetonkadistrict.org/order-of-the-arrow-indian-winter-2018-mar-9-11-2018/
Mar 23-25, 2018 – National Leadership Seminar – Hudson WI. The National Leadership Seminar is a weekend conference focused on the skills and attributes of leadership. It is intended primarily to enhance the leadership skills of the Order of the Arrow's key youth and adult members as they seek to improve their services to the Boy Scouts of America and the greater community. More information available here: https://central.oa-bsa.org/region-programs/training/national-leadership-seminar/
Apr 5, 2018 – April Chapter Meeting – General Meering – Wayzata Community Church at 7:00PM.
Jul 30 – Aug 4 2018 – NOAC 2018 – Indiana University. A Jamboree like experience and the largest gathering of Arrowmen in the country. Registration is through the lodge and there are limited slots. Registration deadline is NOW. Please find the current information at the following link. More information will be available at chapter meetings.
https://scoutingevent.com/250-2018NOACforNSC
Thank you
Brett Schneider
OA Chapter Adviser
Lake Minnetonka District
Totanhan Nakaha Lodge #16, WWW
Northern Star Council, BSA
952-442-5430
brett.schneider@lmdbsa.org.