Order of the Arrow – Information for All Arrowmen – Dec 31, 2017 – Jan 17, 2018
Order of the Arrow – Information for All Arrowmen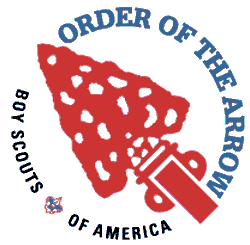 Dec 31, 2017 – Jan 17, 2018
OA Elections for 2018 –2018 OA youth elections run from Jan 1st through April 15th. Your annual elections should already be scheduled. Ensure your peer troops are committed to visiting and providing an election team. The OA chapter web page on the district web site is up to date with all information, links, and files. Please contact me if you need forms or assistance along the way.
OA on the District Website
Vigil Nominations for 2018 – The link below provides all the information necessary to nominate eligible youth and adult OA members for the Vigil Honor. Nominations are due to chapter adult advisers by January 11, 2018. Downloadable and digital forms are available on line, as well as an on-line google form, new this year. Paper copy submittals work too. Please contact me with any specific questions as you get started on the nominations. Our chapter has typically seen low participation so here is your chance to recognize Arrowmen in our district.
http://oa.nsbsa.org/OurLodge/VigilHonor.aspx
January Chapter Meeting – January 4th – General Meeting and Winter Camping Discussions – In January, come and learn about the operations of the chapter. Join your youth officers in a phone-outreach campaign to call our Arrowmen and invite them to participate. Other agenda items are to discuss winter camping, the district winter camporee. The OA is a camping focused youth elected group of well-rounded scouts and they need your support for your activities.
February Chapter Meeting – February 1st – Winter Camping Discussions – Final planning meeting for OA activities at the District Winter Camporee. Fellowship, activities, and a bit of grease and sugar for dessert.
Upcoming Events:
Thank you
Brett Schneider
OA Chapter Adviser
Lake Minnetonka District
Totanhan Nakaha Lodge #16, WWW
Northern Star Council, BSA
952-442-5430
brett.schneider@lmdbsa.org.
Post expires on Saturday January 20th, 2018