MOBILE ARCHERY RANGES AVAILABLE TO SHOWCASE SCOUTING
RESERVE ONE FOR A MAJOR COMMUNITY FESTIVAL OR EVENT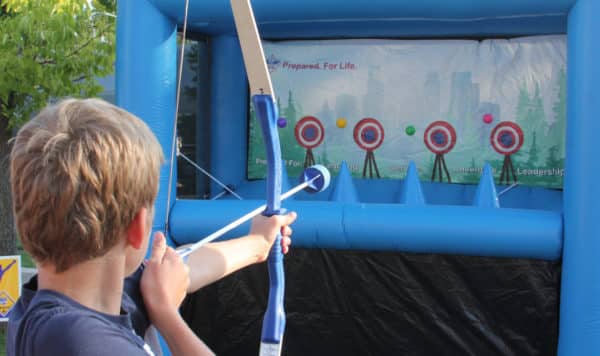 We've got some really exciting resources available to serve as a new member recruitment tool while helping increase Scouting's visibility and image. Archery is one of our most popular camp activities and these commercial, specially branded inflatable ranges can give festival goers a taste of Scouting. They use safe foam tipped arrows with beginner-friendly bows and accessories.
Supported as a pilot project by the Council Innovation Committee, funding was provided for three mobile ranges. They are proving their worth, having been used at numerous festivals with photos of the ranges in action appearing in community papers, as well as on three television programs. The ranges have been a huge hit with festival/fair goers.
SOME UPCOMING PLACES YOU CAN FIND OUR RANGES!
January 20 Winter Trails Day – Fort Snelling State Park, MN
February 3, 2018 Mid-Winter Fest – Eagan, MN
WHERE AND HOW CAN WE USE AN INFLATABLE RANGE?
Here are the criteria and steps to utilize one of these mobile ranges:
Major Event/Festival/Fair – These are designed to be used for large events with a focus on showcasing Scouting and new member recruitment.  Use must go beyond a being unit activity to extend their useful life and enable them to make the most impact.
Volunteers – A minimum of five volunteers are needed at all times to run the range, with one designated as the Range Safety Officer, who will be in charge and required to take the online training/orientation.
Reservations – Make your request through your district's Program Resource Executive, who will work with the council's reservation team to determine availability.
Pick-Up and Return – The ranges are stored at Base Camp, so must be picked up and returned there during business hours. The equipment comes in three large cases so a large vehicle will be required.
Electricity – The inflatable backdrop requires a steady stream of air from a blower. A long extension cord is provided, but if your proposed location does not have power available, you will need to secure a portable, quiet generator.
iPads & Hot Spots – In keeping with the range's recruitment purpose, an iPad with a database program is included to capture contact information on those interested in Scouting. They will work as stand-alone devices, but it is recommended that you have a hot spot (like a mifi or smartphone) to enable the Wi-Fi iPads to connect to our online registration system for those who want to sign up immediately.
Jacob Stonesifer
District Executive (CRE)
jstonesifer@northernstarbsa.org