INTEREST FOR WORLD JAMBOREE 2019 LEADERS
INTERESTED IN HELPING?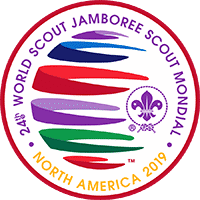 The World Jamboree is a large scale Camporee held every four years with Scouts from around the World. This time around the U.S., Mexico, and Canada are co-hosting the Jamboree at the Summit Bechtel Reserve in West Virginia. It is gearing up to be the largest World Jamboree ever held and will be the first of its kind being held at a Boy Scout property like the Summit.
WHO CAN ATTEND:
For Adults interested in serving on our Council's leadership team at the World Jamboree, you must go through an application and interview process. We expect to start that process early next year. To get on the mailing list to receive future information, please fill out this SURVEY. Filling out this link is not guaranteeing you a spot or a binding agreement. It ensures that you will receive an update as more information is rolled out from the National office.
Youth interested in attending must have their date of birth fall between July 22, 2001 and July 21, 2005 (i.e. ages 14-17 at the time of the Jamboree). There will be a similar application process for youth to attend the Jamboree after adults are selected. Anyone who is older than this age range, but is interested in attending the Jamboree should look into joining the JAMBOREE STAFF.
The Jamboree will also be looking for adult staffers. If you are not attending the Jamboree as a leader of the Council contingent, but are interested in attending, we encourage you to look into Jamboree staffing as well.
WORLD JAMBOREE DATES AND LOCATION:
Dates: July 22 – August 2, 2019 (often travel time and tours add more days to this schedule)
Location: Summit Bechtel Reserve, Glen Jean, West Virginia
More information: https://www.2019wsj.org/
Cost for attending the World Jamboree will be determined as we receive information on the fees to National for the event. Fundraising options will be available to Scouts to help pay their way to the event.
Post expires on Tuesday October 2nd, 2018