HERE ARE YOUR TOP POPCORN SELLERS OF 2017
GREAT WORK EVERYONE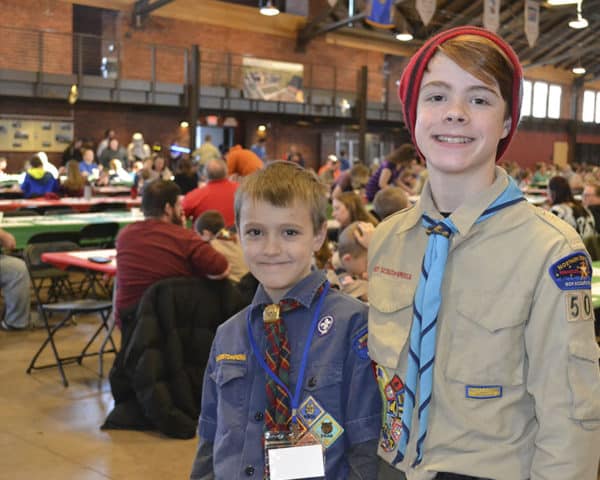 The 2017 Popcorn sale was a BIG success thanks to the thousands of Scouts and parents who set goals and saw them through with popcorn! Northern Star Council Scouts sold over $3.4 MILLION in popcorn, making us the 4th largest popcorn sale in the country!
Over $2.4 million dollars went directly back to support local Scouting. It's a win-win for Scouting.
Some stats about the sale include; 240 Packs sold, with an average of $11,075 in sales. 171 Troops participated and their average sale was $4,277. Most troops also sell wreaths. Scouts sold over $66,000 in Hometown Heroes popcorn. This popcorn is collected and donated to area fire, police, EMS, military personnel—anyone who is a hero!
Top selling Scouts got to choose from some great prizes, including free passes to a special Star Wars movie screening, Big Thrill Factory Passes, Lego Adventure Day, MN United Mini Camp and more!!
Not only is the Popcorn sale fun for Scouts, parents like what it can do for their Scout. Here are just a few of the quotes we hear from parents each year.
"My wife and I are a little frustrated with how "easy" life has become in regards to obtaining "things" and are trying to commit to establishing a better work ethic in our house. Popcorn selling certainly was a lot of work, but also a lot of fun and a good learning experience with valuable life experience gained. I'm glad my son got to see how hard others worked as well."
"I have seen my Scout come out of his shell and talk to new people without fear."
"He has learned about being brave, polite, and open up to people and learning new things from fellow Scouts"
"My Scout has learned to work hard and stay motivated to reach goals"
"My Scout has learned how to handle rejection—a no is that much closer to a yes"
Popcorn is much more than a tasty snack, it's a way for Scouts to learn goal setting, confidence, budgeting and good work ethic. Be a part of history as Northern Star Council strives to be the number one popcorn sale in the country. Your Unit or Scout can sell this fall, either as the only fundraiser, or in addition to other fundraisers your unit is already doing. Join the over 8,000 Scouts that earned their own way this past fall with popcorn. To find out how your Scout can go on awesome adventures and earn money for camp and Scouting, contact Popcorn headquarters at popcorn@nsbsa.org or contact Bill Anderson Horecka at 651-254-9146.
| | | | | | |
| --- | --- | --- | --- | --- | --- |
| First Name | Last Name | District | Unit | Unit # | Total Sold |
| Kolten | Scott | Kaposia | Pack | 540 | $ 15,879.66 |
| Thomas | Geller | Lake Minnetonka | Pack | 3372 | $ 11,740.00 |
| Andrew | Wolf | Kaposia | Troop | 264 | $ 10,010.00 |
| Grant | Fitterer | Southern Skies | Pack | 327 | $ 8,682.45 |
| Clinton | Stouder Jr | Southern Skies | Pack | 331 | $ 8,096.54 |
| Logan | Stendera | Southern Skies | Pack | 330 | $ 7,142.00 |
| Kris | Kirkland | Many Waters | Troop | 9439 | $ 6,870.00 |
| Liam | Wells | Many Waters | Pack | 9692 | $ 6,140.00 |
| John | Titus | Southern Skies | Pack | 327 | $ 6,092.13 |
| Aiden | Trosen | Dan Patch | Pack | 3916 | $ 5,826.00 |
| Grant | Burger | Dan Patch | Pack | 3218 | $ 5,753.70 |
| Kevin | Morales | El Sol | Troop | 9009 | $ 5,725.00 |
| Jackson | Kramer | Crow River | Troop | 623 | $ 5,260.00 |
| Caleb | Petersen | Trailblazer | Pack | 3221 | $5,140.00 |
| Cody | Rademacher | Dan Patch | Pack | 3916 | $ 5,102.50 |
| Jackson | Rademacher | Dan Patch | Pack | 3916 | $ 5,102.50 |
| Lincoln | Meyer | Three Rivers | Pack | 387 | $ 5,075.00 |
| Rowan | Stanton | Dan Patch | Pack | 3916 | $ 5,036.16 |
| Rylie | Peaslee | Eagle River | pack | 9463 | $5,015.00 |
| Aiden | Nelson | Eagle River | Pack | 9148 | $ 5,000.00 |
| Juan Jr. | Mendez | El Sol | Troop | 9009 | $ 4,930.00 |
| Jackson | Althoff | Crow River | Pack | 3273 | $4,924.00 |
| James | Garske | Kaposia | Pack | 540 | $ 4,910.45 |
| Johnny | Garzon-Herrera | El Sol | Pack | 3335 | $ 4,680.00 |
| Isaac James | Lyman | Southern Skies | Pack | 9300 | $ 4,600.00 |
| Marshall | Martig | Crow River | Pack | 3236 | $ 4,600.00 |