FlyOver America – MOA – BRING A FRIEND OPPORTUNITY – Apr 30, 2017
The Northern Star Council has the ability, due to an Innovation Fund Grant, to offer two opportunities for youth to get to know Scouting.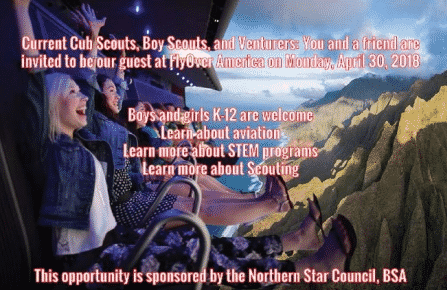 The first opportunity is for groups, such as schools or faith based organizations, who are  interested is starting a new unit. The district's Program Relations Executives and the district Community Relations Executives will work to identify five potential new units and one potential new Charter Partner to attend.
These groups who attend will have a great experience FREE OF CHARGE! They will get to meet Scouts and Scout leaders, and learn about other great opportunities in Scouting.
The second opportunity is for Cub Scouts, Boy Scouts, and Venturers to bring a non-Scout friend FlyOver America. THIS IS A FREE EVENT! It will take place at the FlyOver America, located at the Mall of America on April 30th.  Sessions start every 15 minutes from 4:00 – 9:30 PM.
Space is limited.
Registration
Thank you
If you have any questions, please feel free to contact me.
Troy Ebensteiner
Membership Chairman
Troy.Ebensteiner@lmdbsa.org