February 7th Roundtable CANCELLED and Rescheduled for Feb 15, 2019 on Facebook Live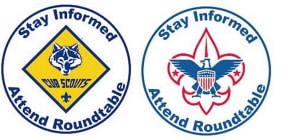 Hi there Scouters!
Please take note of the Hazardous Weather Outlook released by the National Weather Service early this morning. Forecasts indicate that we will see snow and patchy freezing drizzle overnight, with 1-2 inches by the Thursday morning commute and another 2-4 inches throughout the day Thursday.
In light of this forecast, I wanted to make sure you all were informed early on, that we have decided to CANCEL AND RESCHEDULE the Roundtable that was scheduled for 2/7/2019 @ 7:00pm, including the OA Chapter meeting and the Unit Commissioners meeting.
The new information is this:
Place—your choice of venue with internet capable device and access to Facebook Live
Date—Friday, February 15, 2019
Time—7:00pm
Broadcasting location— somewhere in the frozen north
Content— we are going to do our very best to present the advertised content in this alternate format, to keep you all safe. (It is just going to take us a few days or rounding up enough sled dogs and snowshoes to get to that remote broadcast studio.)
Thanks everyone for your constant gifts of excellent feedback and keep it coming!
Stay safe and keep warm.
YIS,
Tina Ramacier
Roundtable Commissioner
Tina.Ramacier@lmdbsa.org