Fall Camporee 2018
Horse Ranch Campout
Sep 21-23, 2018
Carver County, Minnesota
Price per Person – $15.00 plus an optional $30.00 for a horseback trail ride
Come join your fellow Boy Scouts, Venturers, Webelos, AND Bear Scouts from the Lake Minnetonka District for our Fall Camporee 2018 at the River Valley Ranch, September 21-23, 2018.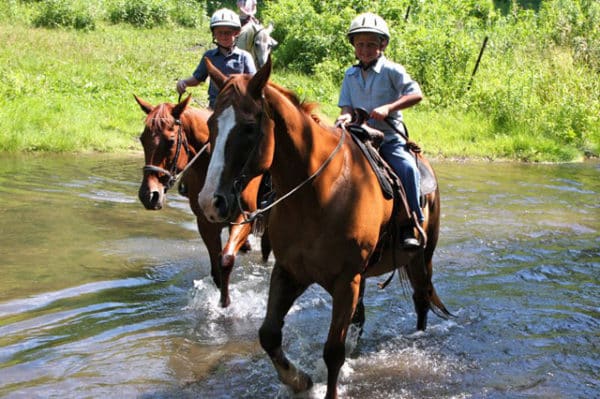 Located on 480 private acres in Carver, Minnesota on the shores of the beautiful Minnesota River, this location is fantastic! There are dense woods, open fields, and secluded areas. In fact, it is considered one of the best trail ride locations in the Twin Cities!
Friday and/ or Saturday Tent Camping - Lake Minnetonka District, AND OTHER NSC DISTRICT,  Webelos, Bears, Boy Scouts, and Venturers are welcome to camp Friday and/or Saturday night.
Saturday Activities - BEAR SCOUTS, WEBELOS, BOY SCOUTS, and VENTURERS are welcome to participate if they plan to camp over night or just come out for the day on Saturday.
Price per Person – $15.00 plus an optional $30.00 for horseback trail ride
$15.00 - Tent  Overnight  + Saturday Activities - Overnight Bring Your Own Tent Camping either Friday or  Saturday or both. Includes Saturday Activities, all programs and events, merit badge and adventure loop/pin offerings, and camporee patch (trail ride extra)
$15.00 - Saturday Day Only - Includes Saturday Activities, all programs and events, merit badge and adventure loop/pin offerings, and camporee patch (trail ride extra).  
$30.00* - One Hour  Tail Ride (optional) -  one hour horseback trail ride

$  3.00  

- Metalwork Merit Badge (optional)
* Does not include a 5% processing  fee.
Activities
One-hour horseback trail rides 

RIDERS MUST BE AT LEAST 50″ TALL TO RIDE
MAX WEIGHT TO RIDE 250 LBS
STAFF WILL PICK a horse based on skill level.
RIDERS must have the physical ability to mount the horse unassisted.

Merit badges* 

Horsemanship
Wilderness Survival
Metalwork
Fishing

Webelos Adventure Pins*

Outdoorsman
Webelos Walkabout
Cast Iron Chef
Castaway
Into the Woods
Into the Wild

Bear Adventure Belt Loops*

Bear Necessities
A Bear Goes Fishing
Bear Picnic Basket
Fur, Feathers, and Ferns

Unit competitions - including a Western Cooking Contest
Climbing wall
Fishing
Campfire program
Camporee patch
We will continue with our popular carnival atmosphere where you can take advantage of preplanned activities, or create your own program and have some downtime. This is a western-themed event, so dress and cook appropriately. In other words, cowboy hats, boots, and lots of beans in the Dutch oven is expected and appreciated.  Invite your Webelos!
Many thanks to our host units T174 T303, T330, T409, T589, T702, Jim Lindfors, Brett Schneider, Brian Klein, Mellissa Stanfa-Brew, Sally Jensen, David Olson, and the Activities Committee for working on this Camporee.
* Scouts may earn partial credit for the merit badges and adventure loops/pins offered at this camporee.
This will be a fantastic event you won't want to miss!
REMAINING UNTIL
---
Fall Camporee 2018
HORSE RANCH CAMPOUT
Sep 21-23, 2018
River Valley Ranch
16480 Jonathan Carver Parkway
Carver, Minnesota
---
CAMPOREE DETAILS
The details for this camporee are found in the "Information Packet" posted under the Camporee Resources, found below if using your cell phone, to the right if you are using your laptop. Please read through this document. The document also includes links to the merit badge worksheets for this camporee.
The Camporee Information Packet includes a "Unit Check In Form". This form must be used when you check in at camporee
---
NOTE: Scholarships are available for families in need. Unit leaders please use the email link below. Your request will remain confidential. Please contact Scott.Janke@lmdbsa.org