Cub & Boy Scout Open Lock-Ins at Base Camp!
TWO LOCK-IN DATES AT BASE CAMP FOR SCOUTS!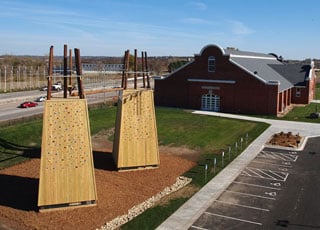 Have you always wanted to join in the fun of a Base Camp lock-in but just don't have a group large enough to reserve one? We have a solution for you. This fall, Base Camp will be hosting two open lock-ins for any Boy Scout or Cub Scout to sign up for as an individual or part of a small group! All of the best parts of our overnight program will be offered, including rock climbing, archery, open gym games, and late night pizza. In addition, some extra features will be included, such as a campfire with s'mores, high ropes for Boy Scouts, bounce house for Cub Scouts, and a glow-in-the-dark tie dye craft!
WHO CAN COME?
Boy Scout Open Lock-in (12 and up) Friday-Saturday, October 27th-28th, 7:00 p.m.-9:00 a.m. Cub Scout Open Lock-in (6-11 years) Friday-Saturday, November 3rd-4th, 7:00 p.m.-9:00 a.m.
OTHER STUFF TO KNOW
$25.00/participant, $8.00/non-participant adult
These events are for Scouts and their adults (sorry no siblings)
Each youth must attend with an adult (adults may accompany multiple youth so long as Two-Deep Leadership is observed
http://www.scouting.org/Training/YouthProtection.aspx)
Cots or mats are available to borrow onsite
Food provided includes: late night pizza and
lemonade, s'mores throughout the campfire activity, light breakfast in the morning before departing
Remember to bring your own clean, white article to tie dye (t shirt, socks, pillowcase, etc.)
During the Cub Scout program an area for early lights out/quiet time area will be designated following pizza at 10:30 p.m.
HERE'S THE SCHEDULE!
7:00 p.m., Arrival/Check-in
7:30 p.m., Introduction/Activities Open

Boy Scout event: High Ropes, Archery, Rock Climbing, Tie Dye
Cub Scout event: Bounce House, Archery, Rock Climbing, Tie Dye

9:45 p.m., Break for Pizza and Lemonade, campfire Opens
10:30 p.m., Open Activities Resume
11:30 p.m., Activities Close, Lights Out, Movie Showing
1:00 a.m., Quiet Time
7:00 a.m., Rise, Pack, Light Breakfast
9:00 a.m., Depart
LET US KNOW YOU'RE INTERESTED
Click the link below or use the contact information on this page.
Post expires on Saturday November 4th, 2017