Congratulations to the new Lake Minnetonka Vigil Honor Members
The 2019 Fourth Annual Vigil Re-Union was a great event at Camp Phillippo and we celebrated it with our Annual Vigil Conclave. Work projects at Camp Phillippo included painting, trail work, preparing camp facilities for winter, taking summer program areas, and more. Hundreds of hours of service to the camp were performed, interaction with the new class of Vigils.
Three of the five Lake Minnetonka Vigil Candidates kept their Vigil this past weekend. Congratulations to Karsten Smith, Alex Vaa, and Brett Schneider who were recognized as Vigil Honor members this weekend.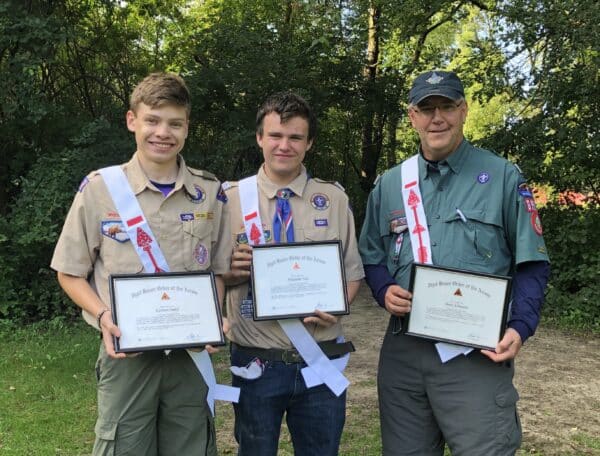 ---
The Vigil Honor is the highest honor that an Order of the Arrow lodge can bestow upon its members. Vigil cannot be won by a person's conscious endeavors, but is presented by the lodge in recognition of a member's unselfish leadership in
service.
The Vigil Honor is a high mark of distinction and recognition reserved for those Arrowmen who, by reason of exceptional service, personal effort, and unselfish interest, have made distinguished contributions beyond the immediate responsibilities of their position to their Lodge, the Order of the Arrow, Scouting, or their Scout Camp. Alertness to the needs of others is the mark of the Vigil Honor.