Congratulations To Our Units Who Have Met Their FOS Campaign Goals
We are half way through our FOS campaign with $31,037 raised! Our thermometer is slowing rising. 28/46 units have completed their FOS presentations!
Congratulations to five of our Units who have met their FOS Campaign Goals! Thank you for your hard work in completing your campaign!
All units can still strive to make their goals by May 15th  with their 2nd presentation and follow up calls!
For units that still have their presentations scheduled, if you would like a district volunteer to assist with the presentation in your unit, please let us know! In addition, there are many valuable resources available on our district website to keep you informed and up-to-date.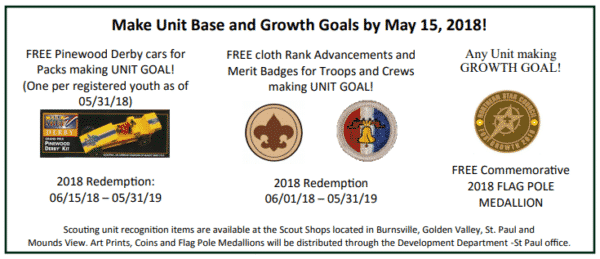 FOS Goal Status Thermometers
Presentation Materials
Resources
We Need Your support – Make Your Donation Now!
You may direct 100% of your gift to a specific scout unit or the Lake Minnetonka District (LMD) Community FOS program. It's up to you and you may do it online using your credit or debit card.
If you have any questions or concerns about this email or its contents, please do not hesitate to contact us or any member of the Lake Minnetonka District Committee.
Thank you
Sally Jensen
Family Friends of Scouting Co-Chairman
Sally.Jensen@lmdbsa.org
Nira Rajan
Family Friends of Scouting Co-Chairman
Nira.Rajan@lmdbsa.org