"Burger Burn" – August 2, 2018 Roundtable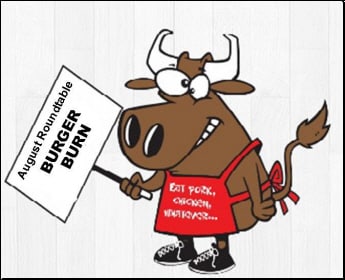 Adult Scout Leaders and Parents:
The Burger Burn – August Roundtable – will be held at Parker's Lake Park Picnic Pavilion and playground on August 2, 2018. Many announcements have been transmitted to all District Leaders and Adults with all of the details. See the previous Sunday blasts or the following link.
http://www.lakeminnetonkadistrict.org/august-roundtable-2018/
This is a personal request from me, your District Commissioner, to make plans to attend this important event. In addition to the free food, there will be important information about the fall recruitment process, School Night for Scouting, Popcorn Sales, Journey To Excellence 2.0 (JTE), and all the District subcommittees – who they are and how they can help your unit.
Your District Leadership Team (Key 5) feels that this is a mandatory event and each Unit needs to be represented to personally receive all this information in a timely manner. With this information each unit will be better prepared to have a more successful recruiting season and a stronger program.
Please take a moment now to register for this FREE event so that we know how much food is needed.
Register – RSVP

THIS IS A FAMILY FRIENDLY EVENT. BRING YOUR APPETITE AND YOUR KIDS.
Thank you and looking forward to seeing everyone on August 2.
Yours in Scouting,
Allan Arntson
District Commissioner
Allan.Arntson@lmdbsa.org