WE'RE OPEN! OUR MOVE TO BASE CAMP
OFFICES IN THE LEADERSHIP CENTER
For the first time since two councils merged to form Northern Star, all of our operations will be based out of one building – the new Leadership Center located at Base Camp! Our staff and operations will be moving there this summer.
NOW OPEN!
We had a ribbon cutting ceremony on the morning of July 23, appropriately cut by two helpful Cub Scouts. See them below with our Scout Executive John Andrews.
Find us at 
6202 Bloomington Rd.
Fort Snelling, MN 55111
New Main Phone Line: 612-261-2300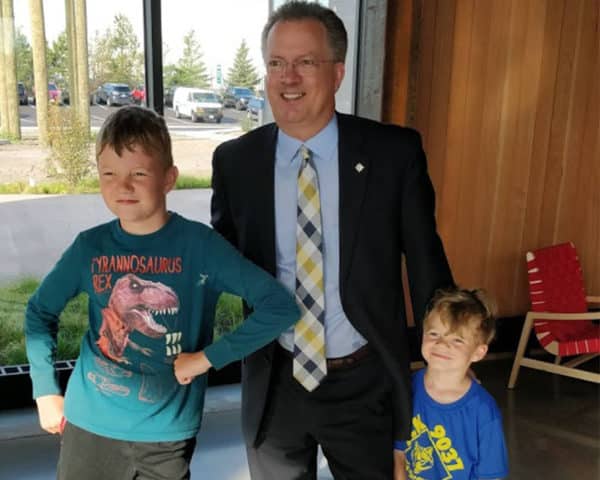 ABOUT THE LEADERSHIP CENTER
Northern Star Scouting's Base Camp is now the home to TWO fantastic facilities – the historic red brick TeamBuilding Center and the slate gray Leadership Center. Each building serves multiple purposes and needs within Scouting and our community. Let's explore the campus!
The below links lead to "ready to print" documents that are easy to share and answer some of the most common questions people have about Northern Star Scouting moving to Base Camp and the Leadership Center.
Leadership Center Construction Progress and Photos
THE CAMPUS