6,000 YOUTH PARTICIPANTS AT 2018 STATE FAIR
12 DAYS OF FUN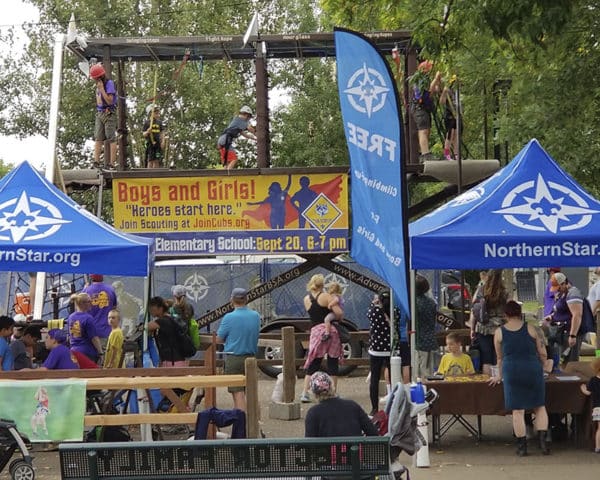 We had a pretty exciting year at the Minnesota State Fair! Our Adventure Summit booth had nearly 6,000 youth participants, and over 1,000 who said they were interested in joining Scouts!
RAIN OR SHINE
Our Scout booth is a pretty unique place at the State Fair. Not only is it an off-the-ground ropes course, it's completely free for kids! that's right, we let kids of all ages get harnessed up, put on a helmet, and climb through a ropes course – many kids' first time doing anything like it.
That cool concept, along with a record number of people at the fair, allowed us to have 5,945 participants in 2018. That's the most we've ever had! The best part? Many of these kids are Scouting aged but aren't yet members. This fun activity is their introduction.
THANK YOU VOLUNTEERS
None of this could have been done without the hard work of our volunteers. It takes 200+ volunteers to fill our shifts plus a dozen camp staff to operate our booth over the 12 days of the fair.
We also have a hardworking volunteer committee that helped plan, setup, and take the booth and ropes course down. This year, they helped by continuing to improve our booth layout and installing all new branding. No small feat! Many of these committee members also worked several shifts to fill empty spots.
Thank you so much to everyone who helped make the fair a success