THE BEST ADULT LEADERSHIP TRAINING AVAILABLE
WHO IS WOOD BADGE FOR?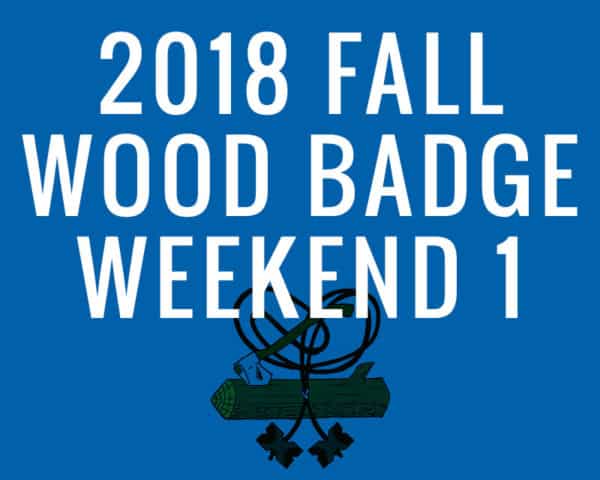 Wood Badge is for all Scouters 21 and older who are interested in strengthening their own leadership skills and are committed to strengthening the Scouting program.
WHAT IS WOOD BADGE?
The primary purpose of the Wood Badge experience is to strengthen Scouting in our units, districts, and councils. In order to graduate, you must attend and participate in all sessions of your course, including both weekends and pre-course meetings.
The Wood Badge "ticket" represents your commitment to complete a set of personal goals relating to your Scouting position. You will have up to 18 months to complete your "ticket", with the guidance and encouragement of your counselor. Upon completion of your Wood Badge ticket, you will be presented with your Wood Badge certificate, neckerchief, woggle, and beads at an appropriate public ceremony.
WHEN IS THE FALL WOOD BADGE COURSE?
The Fall Wood Badge course is scheduled over the following two weekends this fall at Camp Stearns:
Weekend #1 – September 14-16, 2018
Weekend #2 – October 5-7, 2018
Each weekend starts at 7:30 am Friday with check-in at camp and runs until 5:00 p.m. Sunday. You must attend BOTH weekends.
COST
The registration fee to participate in Wood Badge is $250 ($100 deposit is due at the time of registration). Refunds are only made if your spot can be refilled. The fee covers meals, all equipment, and course materials for your two weekends. Many units or employers will pay some or all of this fee. If finances are a barrier, need-based financial assistance is available upon request. Please see related content on this page for an application for financial assistance.
REGISTRATION
Register
For more information contact Course Director, Daron Meyer at Daron_me@msn.com
Post expires on Wednesday January 3rd, 2018