2017 School Night for Scouting
Heroes Start Here
Our biggest recruitment effort is approaching faster than a speeding bullet! We are gearing up to recruit over 4,500 new Scouts through School Night for Scouting, which will again have a Superhero theme, with a few CHANGES:
The night will be Tuesday, September 19, in observance of Rosh Hashanah.
NEW Cubs recruited will receive a Superhero Frisbee, and a glow in the dark t-shirt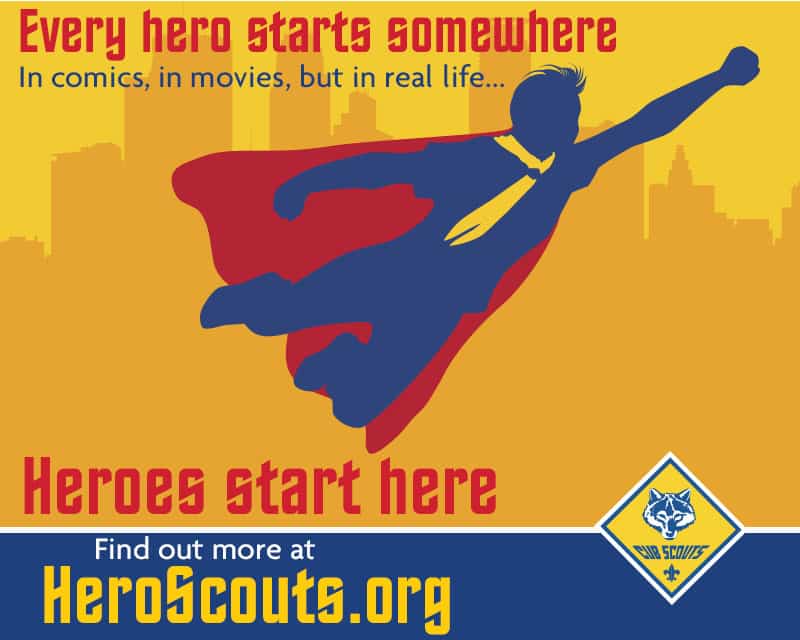 There is also PACK recruitment recognition – packs who hit their recruitment goal for this fall will be invited to an event in recognition of their efforts. Details on this recognition are in the School Night for Scouting Playbook.
What About Kids Who Don't Want to Join That Night?
You can register new Scouts ANYTIME! Just make sure that you bring their application in to one of our Scout Service Centers as you get them, to ensure that they are covered by insurance, can start earning their rank, and will start getting their Boys' Life magazine.
How To Join
Visit HeroScouts.org or visit any elementary school on September 19 from 6-7 p.m.
HeroScouts.org or Any Elementary School September 19, 2017
Activities and Games
We've got some cool games and activities to make your meetings super.
Activities and Games
Promotional Materials
Your Pack, Troop, or Crew will be able to pick up materials for:
Summer festivals and parades
School Open Houses
Unit Open House and "Bring a Friend" activities
Materials available include: wrist bands, invite cards, fliers, Superhero stickers, Superhero trading cards, and more. Order your summer promotional materials online.
Order Summer Promotional Materials
Why Cub Scouts
Wondering what Cub Scouts is all about? Let us show you! Click below to watch a video and see some of what Cub Scouts will do at Summer Camp.
Why Cub Scouts
Post expires on Wednesday August 2nd, 2017