2017 Council Pinewood Derby Finals – Jun 3, 2017
Anyone Can Join The Race!
The Council Pinewood derby is on Saturday, June 3, 2017 and will be at the Boy Scout Base Camp, located near Fort Snelling, Minnesota off of Highway 62. Races will be in several heats this year and Scouts will race against other Scouts their age from all across the Council! Registration starts at 8:30a.m., with races starting at 10:00 a.m.. Please see the times below for more details.
Check In Times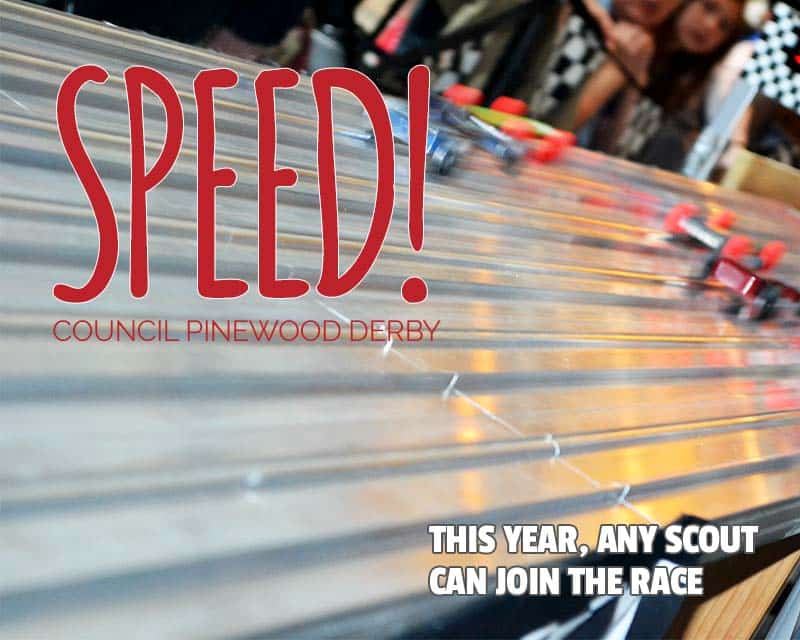 8:30 – 9:30 a.m. Lion and Tiger Check In
10:00 – 11:30 a.m. Wolf and Bear Check In
12:00 – 1:30 p.m. Webelos I and II, and Open Division Check In
Race Times
10:00 a.m. Lion and Tiger Race
12:00 p.m. Wolf and Bear Race
2:00 p.m. Webelos I and II Race
Award Ceremony Immediately after Webelos I and II Race
Open Divisions Race after awards ceremony
Who Can Participate?
Anyone is allowed to participate! If you have a fast or fun car and would like to have a blast and get one more race in this year you are welcome to join. Participants will be able to race their cars multiple times and prizes will be awarded to the top ten racers in each rank. There will also be climbing wall and archery opportunities open to participants at no additional cost. These additional activities will be open to siblings so feel free to bring the whole family!
Cost
$10.00 Per Participant
$5.00 Per Sibling
How Do We Register
Register for the Council Pinewood Derby
What Are the Rules?
Read the full set of rules posted on the documents section of this page to make sure your car won't get disqualified.
Post expires on Saturday June 3rd, 2017